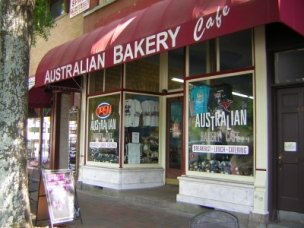 The Setting:  One of the glass-fronted shops that surround Marietta's square, this charming cafe has a handful of tables and a glass fronted pastry counter.  Blackboards on the wall list the array of meat pies and lunch specials.  And, bookshelves bordering the side walls house a small assortment of imported  Australian specialties.
On our Saturday morning visit, we were lucky enough to catch some live music.  A musician on an acoustic guitar was doing her thing.  And, the lovely music was a great way to start our day.
The Staff:  Friendly and efficient (They handled the long line easily on our visit.)
The Food:  So far, we've only sampled the Lamingtons and coffee.  Both were fresh, tasty and quickly consumed.  We wish we had room to try the other sweet treats lining the pastry case.  There were many from Anzac biscuits, cherry slices, hedgehog slices, jam tarts and caramel slices that look like the merger of a candy bar and cookie.  The fruit mince tarts looked delightfully traditional with docked shortbread cookies encasing a dense fruit mince.
And, our bellies weren't ready to tackle the hearty-sounding meat pies with their rich pastry shells and dense fillings or the sausages rolled in dough.  But, we'll be sure to try them on our next visit.  The assortment of meat pies and sausage rolls cover both traditional Australian and their British counterparts.
Star of the Day:  Lamingtons for breakfast with coffee! Yum!
Australian Bakery Cafe
48 South Park Square
Marietta, GA 30060
678 797 6222