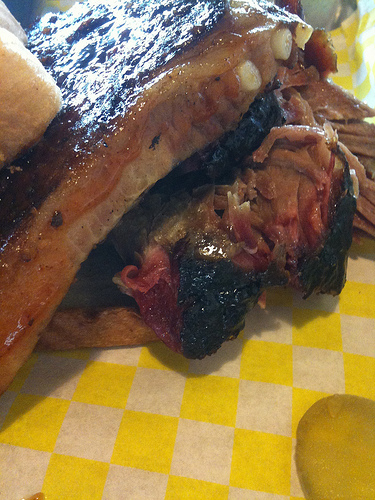 St Louis Style Ribs & Pulled Pork
We can sum up this visit in one sentence.  Everything is better.  From the ribs and pork to the Brunswick stew and collards, every little bit of our meal was significantly better on this visit.  While the ribs and pulled pork might not have the same rush of smoke we get from DBA & Fox Bros., they make up for it with near-perfect melt in your mouth tenderness.  The picture (above) might not be the best looking plate we've seen.  But, the stacking of meat kept each and every bite warm and moist.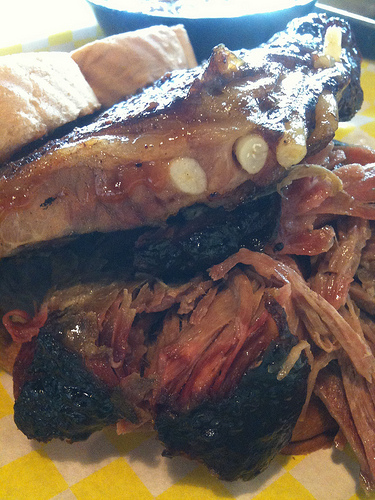 We both got a nice mix of tender meat and perfectly charred bark.  The flavor of the pork really shines here.  The chary bits taste more of perfectly-caramelized pork than smoke.  Very yummy.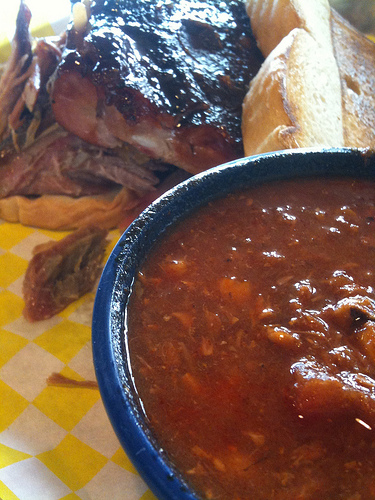 Brunswick Stew
This Brunswick stew was full of rich tomato flavor with generous amounts of meat and corn.  A nice amount of spice brings it all together.  Oh my goodness… No lima beans!  For both of us, this is a positive.  With the lima beans out of the picture, the chunky tomato broth can better highlight the flavors we love.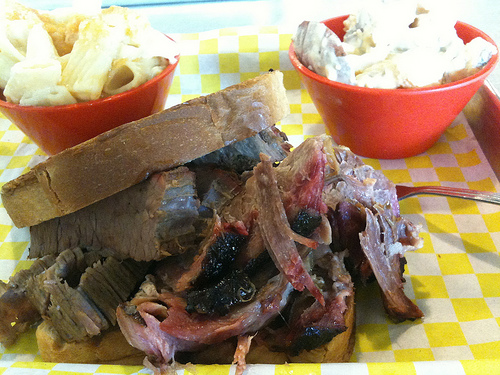 This poor plate of brisket & pork stumbled into bad lighting.
But, don't let this horrible picture fool you.  Every last bite of this brisket was full of powerful beef flavor and the perfect amount of smoke.  We loved (Loved!) this brisket.  And, it was one of the highlights of the meal.  ( I don't know why it looks a bit dry in this picture… it wasn't.  Every bite was moist and tender.)
The one teeny tiny negative?  The very ordinary white (smashed & soggy) toast.  How do they manage to smash each and every piece of toast?  And, why is it so soggy and not at all toasty?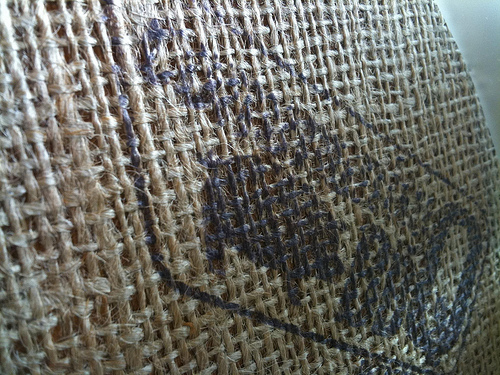 Community Q is inching it's way up our list of go-to BBQ spots.
But, so far, no one can come close to Fox Bros. BBQ.
Community Q BBQ
1361 Clairmont Road
Decatur, GA 30033
404 633 2080