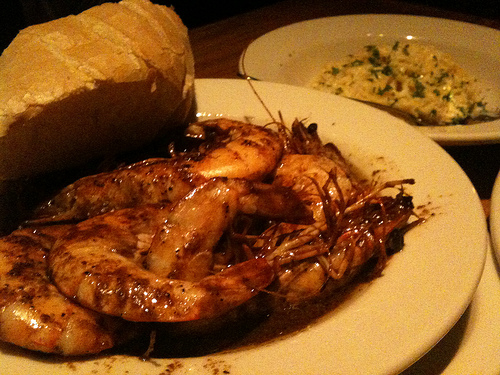 New Orleans Spicy Shrimp
Over the years, we've established a list of favorites.  Favorite restaurant foods that are mandatory on each and every visit.  In Miami, we MUST visit Little Havana for the roast pork, Versailles for Cuban coffee and pastries, and La Carreta for our midnight cravings of super-hot & crisp guava pastries straight out of the oven.  We also visit one particular tourist trap for Lobster Bora Bora and another for their epic stone crabs.  We don't want to… we have to.  They have come to hold a sentimental place in our hearts.
If we ever move, Joey D's New Orleans Spicy Shrimp will be added to this list.  This dish of shrimp roasted in butter dosed with a good amount of spice, lemon juice and garlic is a regular craving that borders on addiction.  We have visited New Orleans on a number of occasions and crave this dish from more than one restaurant in the city of this dish's birth.   But, Joey D's handles this dish with skill and near-perfect consistency.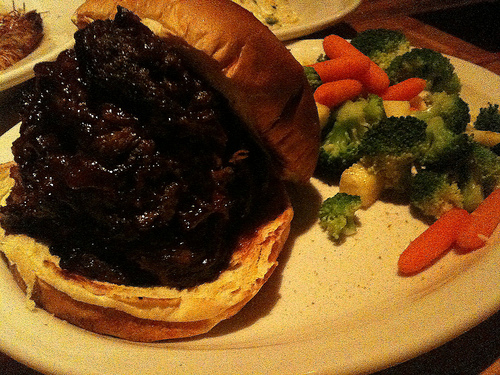 BBQ Beef Sandwich
This amazing sandwich is made of shredded beef tossed in a spicy-sweet & rich bbq sauce.  The beef is shredded from the BBQ Beef Rib (another menu item).  It is so freshly shredded that crispy bits of char crunch delicately with almost every bite.  And, the soft hamburger bun gives this sandwich the taste of an upscale sloppy joe.  Love it!  This might be one of the best sandwiches in Atlanta.  It will definitely be on our Top 10 Sandwich List.
Joey D's Oak Room
1015 Crown Pointe Parkway
Atlanta, GA 30338