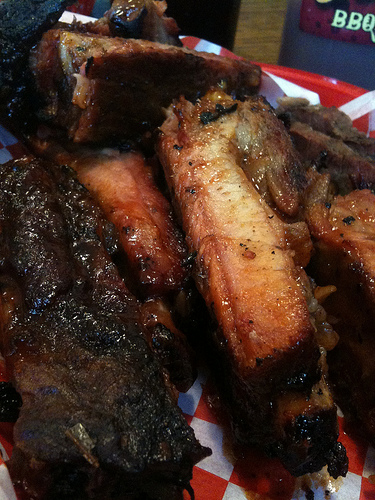 We both love these ribs.  Seriously.  The balance of smoke, tender meaty pork and sauce is right on the money.  And, the sauces are some of our favorites.  With three sauces (Original, Mustard, and Bold AKA Kansas City Style), there should be a sauce to please just about everyone.  But, overall, our first visit was significantly better than this visit.
(Check out our first visit to Smokin J's here.)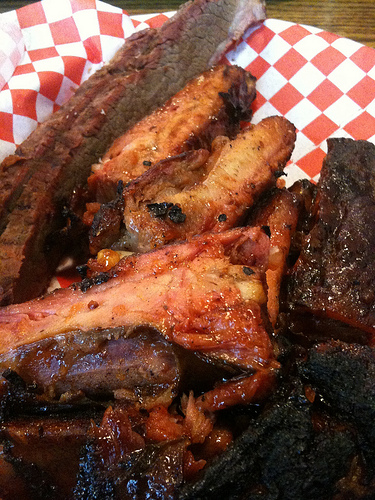 Sadly, the brisket was a bit dry and more than a little tough on this visit.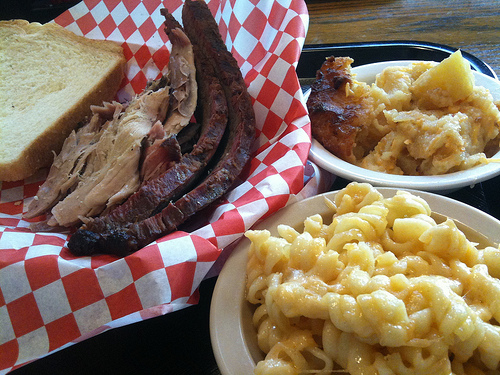 Pulled Pork, Beef Brisket, Mac N Cheese, & Pineapple Express
The instant our meal arrived my honey was regretting his choice.  While the pork was tender and full of flavor, it had very little caramelization and bark.  His brisket clearly came from the same piece of beef as mine.  So, it was equally dry and chewy.  He was eyeing my plate of ribs with a lusty gaze.  I had to share.  After one bite his reaction was, "Oh my god…  These ribs are amazing."  And, I wholeheartedly agree.  So, for now, Smokin J's will be all about the ribs for us.
Hopefully, the pork and brisket will be better next time.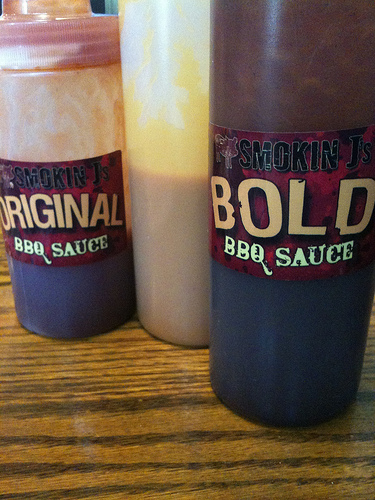 Original, Mustard and Kansas City Style BBQ Sauces
Smokin J's BBQ
2145 Roswell Road
Marietta, GA 30062
770 973 1003