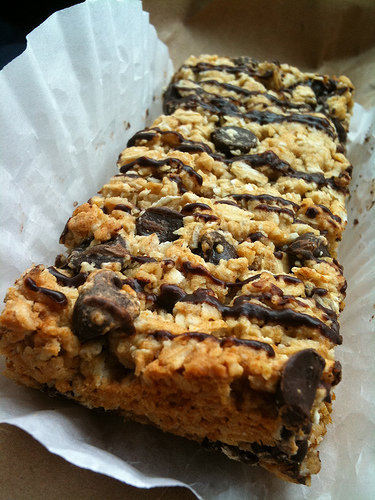 Granola Bar
Sawicki's has a bakery case with most of the items made in-house.  Baguettes and a couple other items are shipped in from Alon's.  We couldn't resist a couple granola bars.  They were incredibly rich with plenty of oats and jam-packed with chocolate chips.  When you jam this many chocolate chips in… is it still a healthy treat?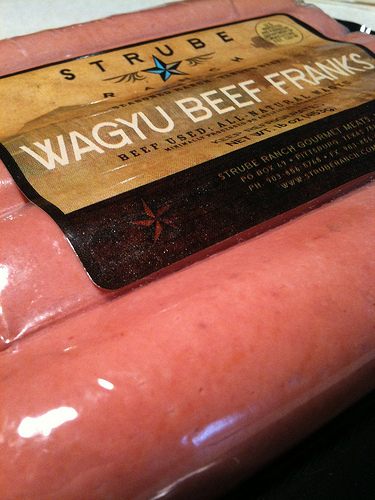 I wasn't particularly crazy about these wagyu franks.  They were saltier than I expected them to be.  And, the saltiness buried most (if not all) of the beef flavor.  At $7.50 a lb, they're reasonably priced.  Unfortunately, they are more than a little forgettable.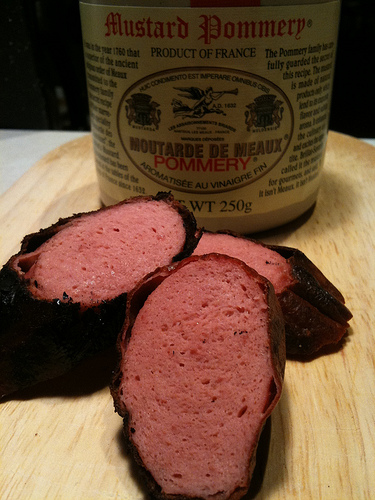 Served with sparing dabs of Moutarde de Meaux, the only identifiable taste from the dog was salt.  Every other flavor was lost under the mustard.  Granted, this is one powerful mustard.  But, we've served it successfully with other mild sausages.
There was a gorgeous slab of grass fed beef (ready to be cut into strip steaks) for $23 lb.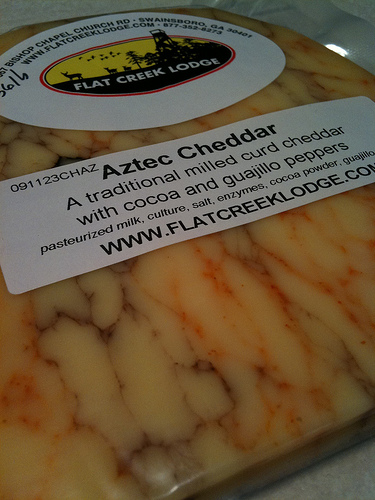 Aztec Cheddar
This mild cheddar made an attractive addition to our cheese plate.  Marbling streaks of guajillo pepper and coocoa powder are lovely, but, the flavor characteristics are quite mild.  The guajillo peppers impart a delicate hint of flavor. And, there's a teeny tiny taste of bitter cocoa giving a glimpse of smokiness when combined with the pepper.
Sawicki's Meat Seafood and More
250 West Ponce de Leon Avenue
Decatur, GA 30030