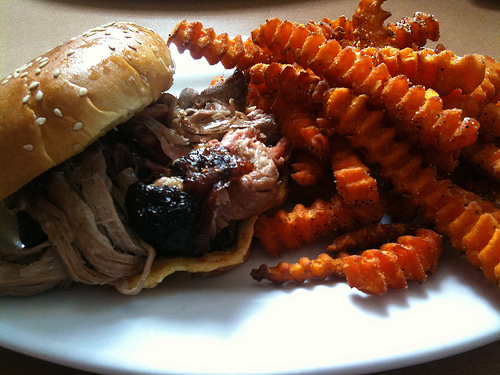 Pulled Pork Sandwich with sweet potato fries
The Pork
The tender, succulent interior is perfectly crusted with a nicely charred shell of smoky deliciousness.
The Sweet Potato Fries
Close to perfection — I think these are the best sweet potato fries in Atlanta right now.  The salt, pepper and spice mix sprinkled on top of these perfectly browned fries push them to to top for us.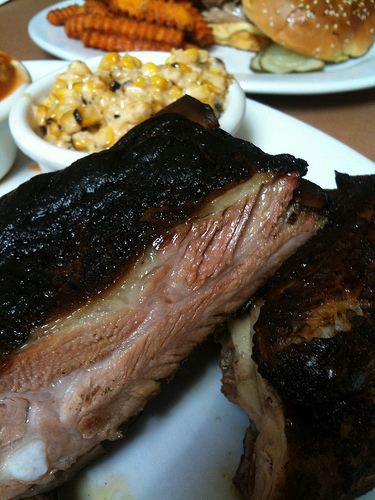 Carolina Spare Ribs & Chicken with creamed corn
This picture really speaks for itself.  The ribs were perfectly luscious and tender with gorgeous smoky char.  The chicken was melt-in-our-mouths tender.  And, yet, it is still infused with a perfect amount of smoke.  It's just about perfect.  And, the spicy BBQ sauce was pleasantly well-rounded.  It had a bit of tang, a bit of sweet, and a bit of spice.  (A bit more spice & heat might be better.  But, it was enjoyable.)
The one thing they could fix… the sweet BBQ sauce.  We weren't loving it.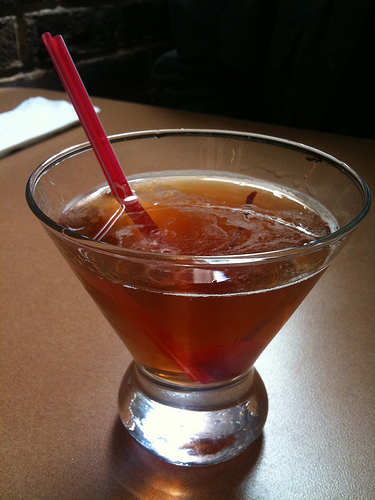 Bacon Bourbon Manhattan with maple syrup
We were pleasantly surprised that this works in the real world as well as it does on paper.  Thankfully, the maple syrup is used frugally.  A heavy hand with the sweet element could have easily ruined this.  Instead, the high alcohol content cuts the heavier notes.
For us, right now, DBA Barbecue is proving to be Fox Brothers' biggest competition.
DBA Barbecue
1190 North Highland Avenue, NE
Atlanta, GA 30306
404 249 500