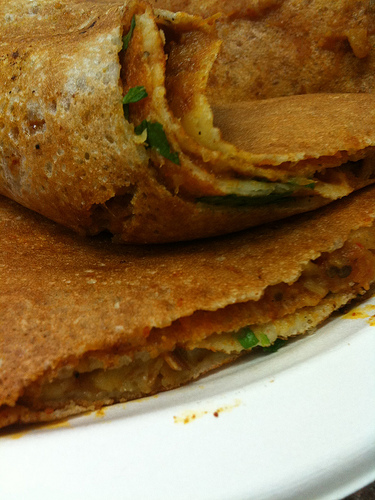 Pav Bhaji Dosa
Two of our favorite vegetarian spots for a quick meal are Chat Patti and Gokul Sweets.  We've been fans of Chat Patti for over 8 years and fans of Gokul Sweets for over a year.  But, since we've only been taking shots of our food diligently for a short time Gokul Sweets was first pictured here & Chat Patti here.  We've lost count of the number of meals we've eaten at each.  And, we've never had a bad meal at either spot.  As a matter of fact, they usually exceed our expectations.  It seems that no matter how many times we visit, the complex blend of sweet, savory and hot spices wake up our taste buds and give the impression of something new with every experience.  If any food could turn me into a vegetarian, it would be Gokul Sweet's pav bhaji dosa.  The combination of smooth & creamy potato, rich spices, and soft pancake-like dosa is a match made in heaven.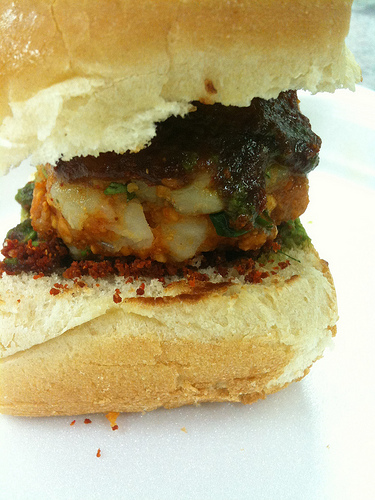 Dabeli
This might look like the Indian equivalent of a slider.  And, maybe it is.  This soft bun holds a ball of spiced potato, onions, cilantro, and ground peanuts.  It's dressed with two sauces and another sprinkle of even more spices.  It's nothing short of delicious.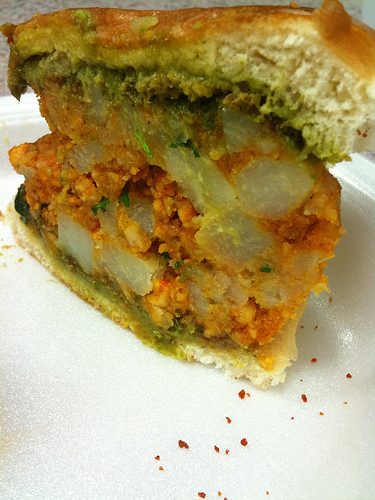 Cross-section of Dabeli
You can see the generous dose of coarsely ground peanuts in the middle of this shot.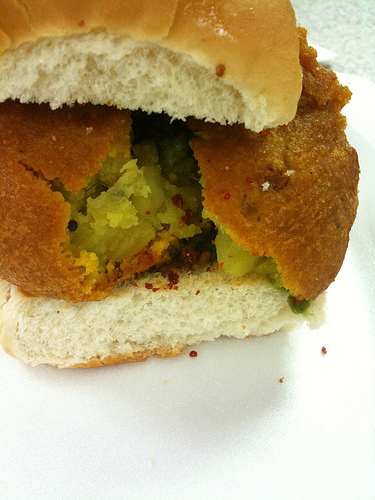 Vada Pav
This ball of potato has a completely different list of spices.   The spices resemble what you might buy at the grocery store labeled as "curry powder".  But, here the spices are richer and fresher.  It's deep fried like a fritter with a chickpea batter.  The deep frying adds to its street food appeal.  But, it's just window dressing.  The flavor comes from the lovely blend of spices.
The appeal of a great lunch would be enough to draw us back again and again.  But, the added appeal of a variety of baked goods, spiced nuts and snacks to take home are the icing on the cake.
Gokul Sweets
763 Dekalb Industrial Way
Decatur, GA  30033
404 299 2062