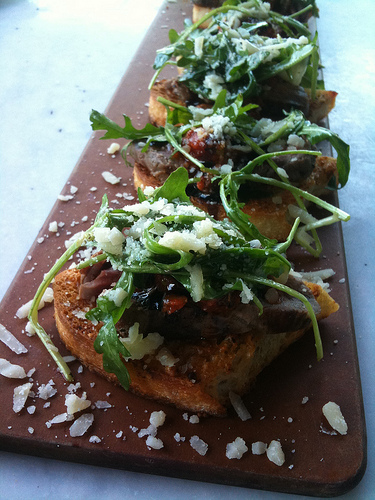 Filet, Roasted Tomato & Arugula Bruschetta
Three bocce courts surround this better-than-most chain restaurant.  One ragged court decorates the front and two are off to one side.  But, hello??  Where's the boccino?  (Maybe you have to ask a staff member for it?) We're going to be very kind to this place.  Why?  Well, we were ravenous and we ate everything.  On another day, we might have found the food to be a bit cloying and heavy.  Just what you expect to find in an American style Italian restaurant, right?  I mean this in a nice (mostly) way.  But, this is an Italian "Cheesecake Factory".  Ok, maybe that's a little harsh.  It's a "Carrabba's" set in fancier digs.  There is something a little charming in their nod to 90's style chains with soap opera set design.
We couldn't find the gorgonzola in the steak bruschetta.(above)  But, this was a pleasant start to the meal.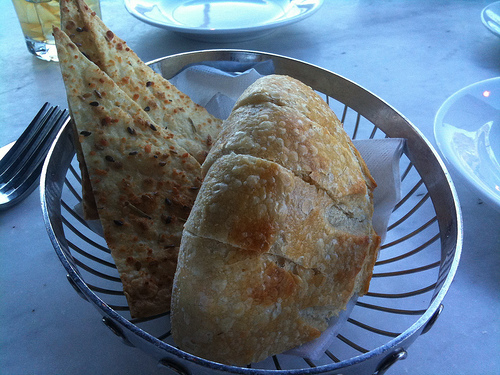 Solid bread basket… even if I'm not sure why they chose a sourdough bread.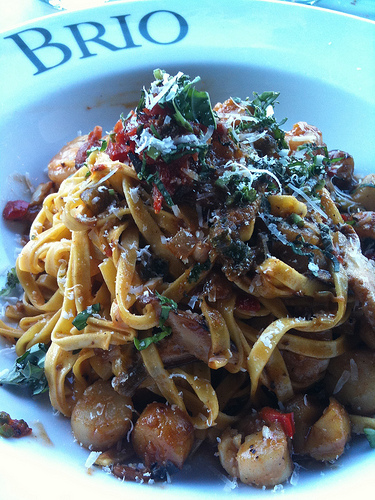 This cream-based sauce of black pepper, tomato, and mushroom topped with basil and more tomato was quite tasty.  Though, it was sauced a bit on the heavy side.  After a long day in the garden, we enjoyed the hearty, stick-to-your ribs richness of it.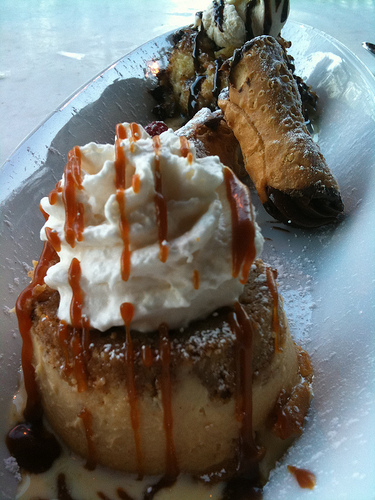 The highlight of this trio was easily the caramel mascarpone cheesecake.  The weak link was the chocolate hazelnut "cannoli".  It's essentially chocolate buttercream stuffed in a cannoli shell.  I enjoy buttercream as much as the next person (probably a little less).  But, I really hate a mouthful of icing in one bite.  It's not an enjoyable experience texturally.
The one serious complaint?
This restaurant is guilty of my least favorite of all restaurant gimmicks… the "giant tray of inedible desserts".  Who started this gag-inducing practice?  Why would you try to tempt me with a piece of cheesecake that has been rotting and exposed to the air for 5 hours?  Do you think this will tempt me to purchase one of your creations?  Actually, we were cringing as we took in the sight spoiled milk pooling under the bread pudding and CSI-esque blood stain (strawberry sauce) soaked cake.  Ugh.  Please, please… I beg you.  Stop this grotesque torture.  Seriously.
(This goes for all restaurants still sadistic enough to engage in this primitive practice.)
Overall?
American/Italian (emphasis on American) chain with a pretty patio and calorie-rich food
Brio Tuscan Grille
700 Ashwood Parkway
Dunwoody, GA 30338
678 587 0017