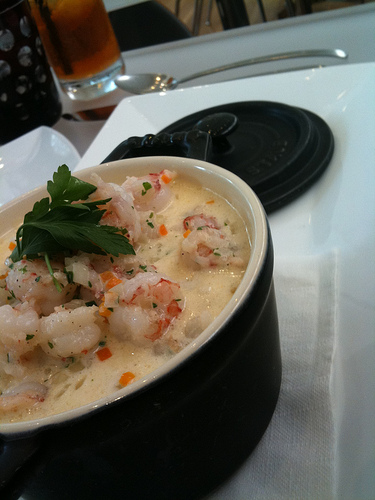 Rock Shrimp with Grits
Subtle changes to a traditional recipe make a world of difference.  Rock shrimp are beautiful in this delicate broth with wine and cream.  The delicate hint of wine and a mirepoix diced to a fine brunoise transform this Southern Classic into a brand new elegant dish.  This dish illustrates the genius of incorporating french technique into our cooking.  By dicing the vegetables to a fine brunoise, it allows even cooking to all of the elements.  Each and every piece of vegetable is not only tender, but, maintains a nice bite that could only be achieved by the perfectly uniform dice.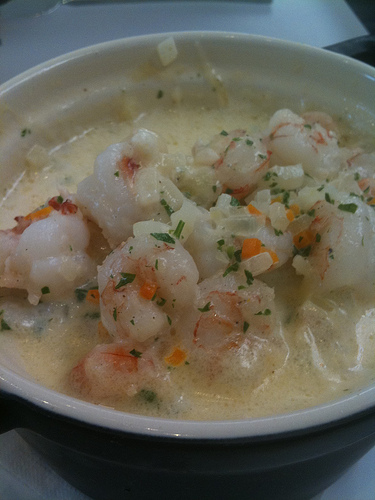 When cooked properly, rock shrimp are incredibly tender.  And, the flavor possesses all of the best qualities of shrimp with a hint of lobster.  Floating on a bed of tender grits topped with maple cheddar,  this dish is one of  my current favorites.  Love it!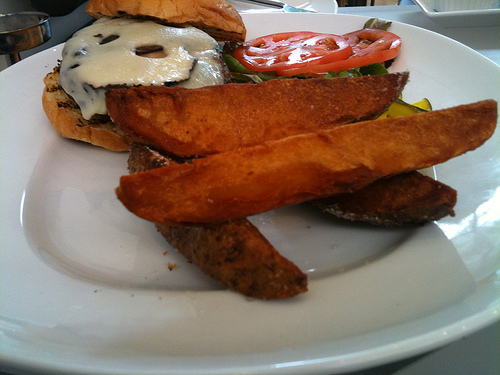 Table 1280 Burger & Steak Fries
Once again, each element of this dish adds up to a near-perfect burger.  Grilled bun, flavorful beef, swiss and portobello mushroom slices work together to form one delicious burger.  Deep dark golden brown fries cut into a wedges complete the package.  They are close to perfection for me.  Since I've already discussed this burger here, I'll be brief.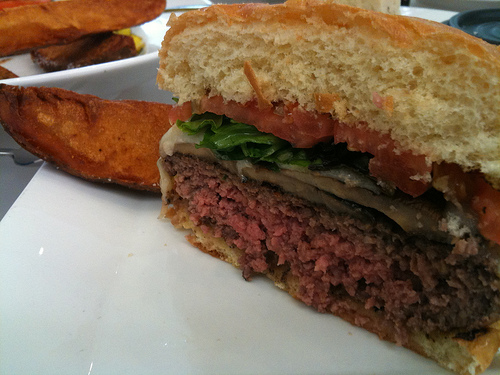 As shown in this cross-section, it was cooked to perfection.  There is another factor that separates and raises this burger above others.  Each additional element was thinly sliced.  This prevented any one element from outshining the whole.  It's a simple thing that makes a world of difference.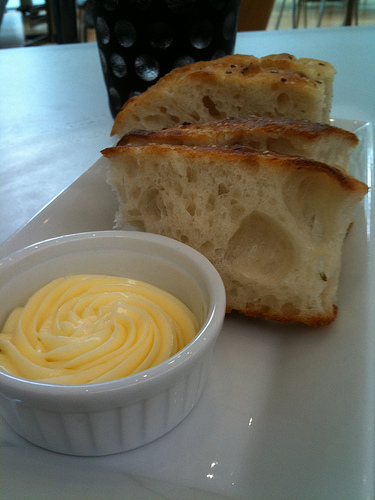 I love this bread!  Sprinkled with salt and spices, this bread possesses so many elements I enjoy.  The dough has been properly matured to allow for a full, rich flavor.  The dough is dotted with bubbles of all sizes.  The thick crust protects the moist interior.  And, the crisp golden brown shell adds even more flavor.  Brushed with olive oil, no additional butter is needed.  It's just an extra indulgence.  Love it!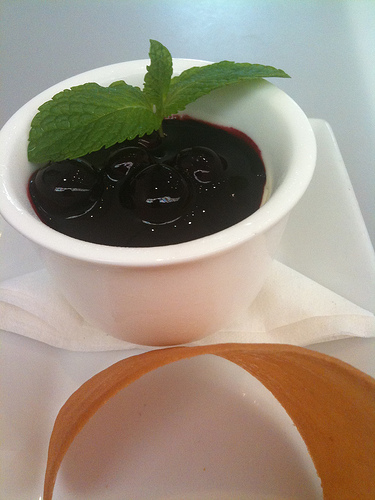 Lemon Panna Cotta with Blueberries
Rich, creamy, and smooth with a lovely blend of sweet and tart, this was the perfect ending to our meal.  We'll be visiting again… soon!
Table 1280
1280 Peachtree Street N.E.
Atlanta, GA 30309
404 897 1280