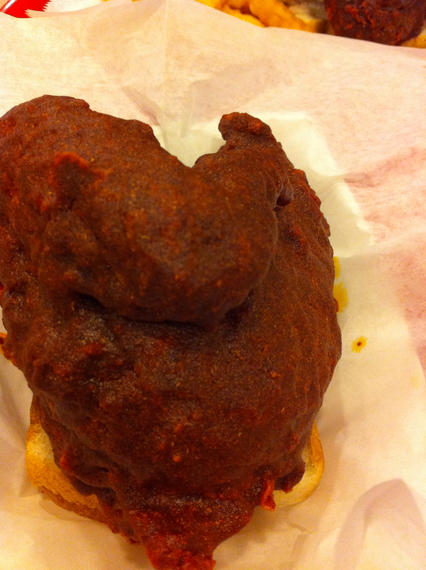 400 Degree Fried Chicken Breast
It looks innocent enough, doesn't it?  But, this chicken breast is uniformly coated with chili pepper "sauce".  This is a sauce is so thick it's more like a paste.  And, we'll guess that the main ingredient in this sauce is a blend of chili powders.
Prince's chicken was pure heaven, so, this must've been hell.  We've never tasted anything quite so spicy.  Where Prince's Hot Chicken shows balance with a blend of spices, 400 degrees offers pure fire.  The pepper blend is so powerful and deadly it's hard to taste much other than the heat of those peppers.  And, there's a bitterness that comes with such an overload.
We were able to eat it …just barely.  But, our mouthes were not happy about it.  We were feeling the burn.  And, our eyes were close to watering.  We're happy we tried the 400, but, we can't quite say that we enjoyed eating it.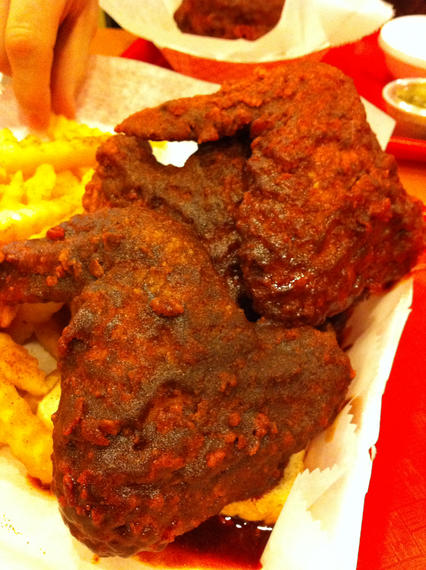 200 Degree Wings
If 400 degrees = inferno, then 200 degrees equals the spiciest food at 400 Degrees Hot Chicken that we can eat and enjoy at the same time.  There's still a bit of bitterness from the pepper sauce.  But, we really enjoyed these.  These offered an addictive and tasty heat.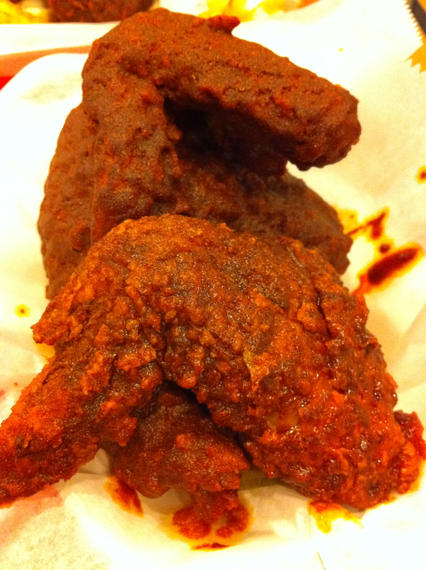 400 Degree Breast In Back, 200 Degree Wing Up Front
You can literally see the difference in the shades of red.  If you want to taste one of the hottest things you'll ever put in your mouth, order the 400.  Everyone else might wanna stick with the 200.  The jump between 200 and 400 degrees is exponentially wicked.
We both left 400 Degrees Hot Chicken craving and wishing for a 300 Degree level of heat.
Next Road Trip To Nashville:
We need to take more pictures.  It's just ridiculously charming.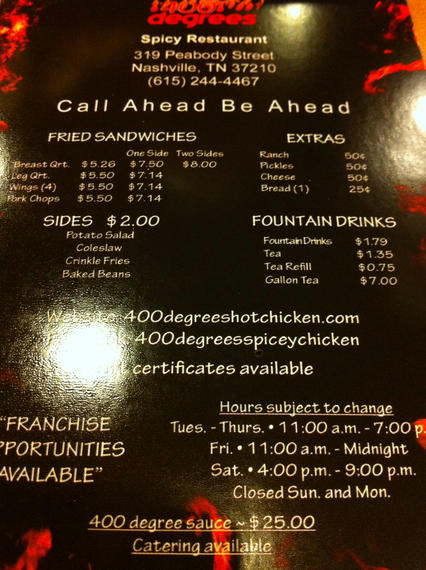 400 Degrees Hot Chicken
319 Peabody Street
Nashville, TN 37210
615 244 4467