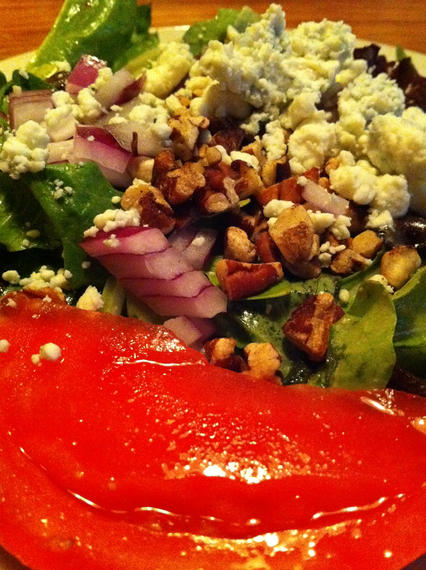 Blue Ribbon Grill House Salad
Topped with roasted pecans, gorgonzola, and red onion, this is one satisfying salad.  The assorted mixed greens were dressed with a very nice gorgonzola vinaigrette.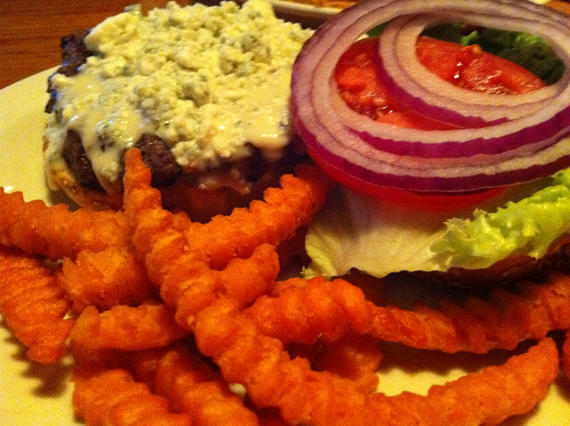 Blue Cheese Burger With Sweet Potato Fries
Loaded with oodles of blue cheese, thin slices of red onion, tomato and lettuce, you don't want to overlook this burger.  That would be a serious mistake.  Blue cheese pairs beautifully with rich ground beef that's seared over high heat and touched with pink at the center.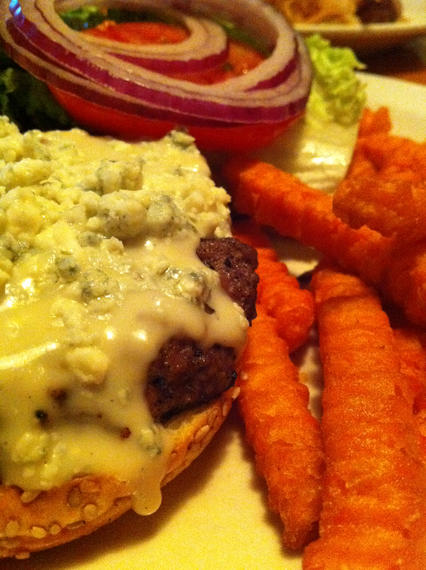 Melty cheese, Big Beef Patty & A Sesame Seed Bun
You'll want one of these.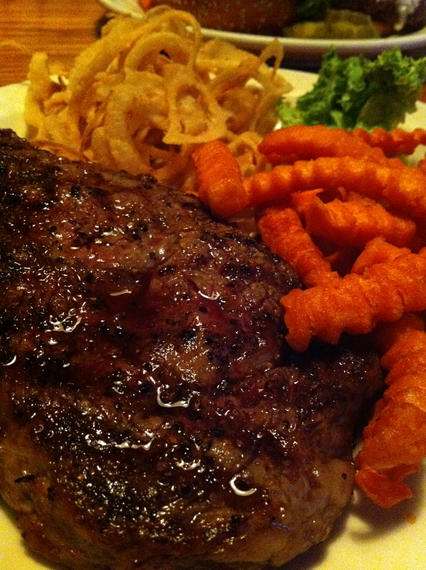 Ribeye With Fried Onion Strings
We were both impressed with this piece of meat.  Blue Ribbon Grill offers a respectable prime rib, too.  It was that surprisingly good prime rib that made us give the ribeye a try.  Normally, we stick to the burgers and grouper sandwich at Blue Ribbon Grill.  Not anymore, we're glad we gave this ribeye a chance.  How often do you get the chance to refer to a ribeye steak as a "good value"?  This was a good value and good eats.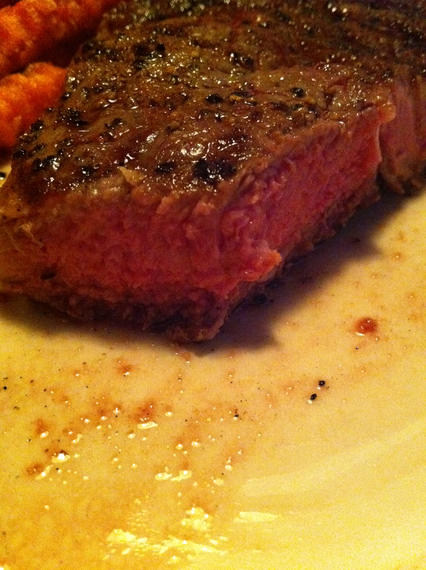 It might be a tad beyond medium rare.  But, we barely noticed.  We were too busy commenting on the nice sprinkling of salt and pepper that so often gets forgotten.
The Blue Ribbon Grill has more than its fair share of seniors.  (Or, "Cotton Heads" …That's an affectionate term we use.  It's the ex-Floridian within us rearing its silly little head.  In Florida, a "Cotton Head Alert" at a restaurant tends to be a very bad thing.  Frequently, it signals bland and boring food.  Cotton heads have finicky old bellies, dontcha know.)  But, don't let that scare you away.  There's some great neighborhood grub hiding out in the lovingly battered dining room that is Blue Ribbon Grill.
The Blue Ribbon Grill
4006 Lavista Road
Tucker, GA 30084
770 491 1570