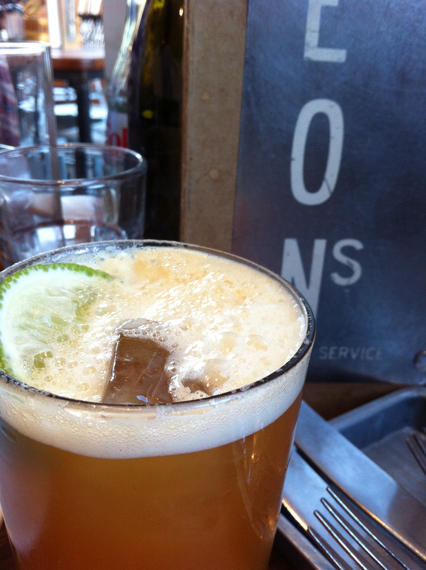 Dark & Stormy
Spicy hot "in your face" fresh ginger flavor, this was a cocktail with a kick.  Refreshing?  Yes.  But, there was a bit too much ginger.  The alcohol was lost under it.  It would be nice to taste the rum.
And, we're still loving the charming little bitty baby bottles of Coco-Cola served with a straw.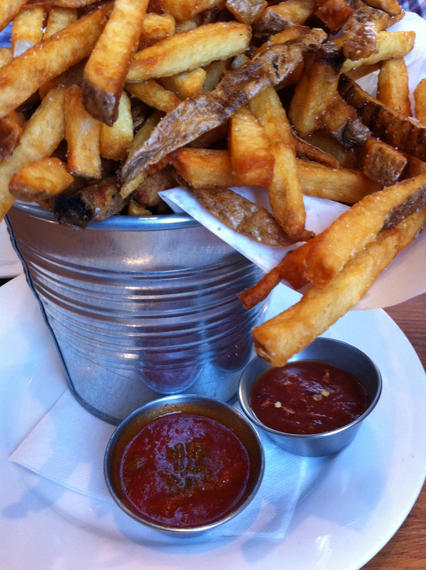 Gorgeous golden brown pub frites, this picture doesn't do them justice.  Each and every fry was seriously perfect.  They're crispy on the outside with tender, creamy centers.  Rich potato flavor is present in every bite.  Now, if only the accompanying catsups had some of the kick that our cocktail possessed.  Both the madras curry and spicy mango catsups, were different variations on sweet and tomato-y.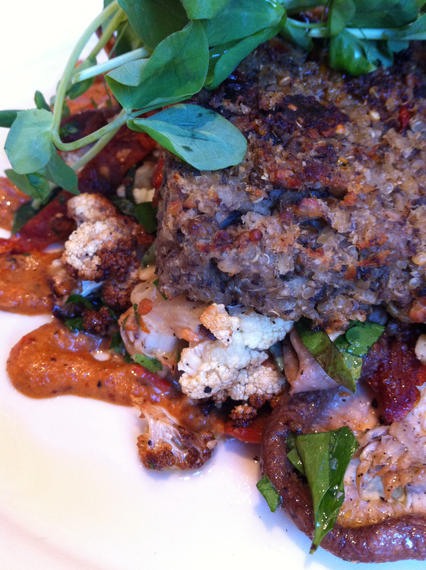 Seared Veggie Loaf
(with Roasted Cauliflower, Shitake Mushroom and Sun-dried Tomato Salad on top of Pecan Romesco)
And, the Brutti Ma Buoni Award goes to… Yep, you guessed it.  It's the veggie loaf.  We'll probably never tire of this dish.  You've gotta give it to a restaurant that has you craving their veggie loaf.  So rich and satisfying, we're in a drowsy comfort food haze half way into this generous portion.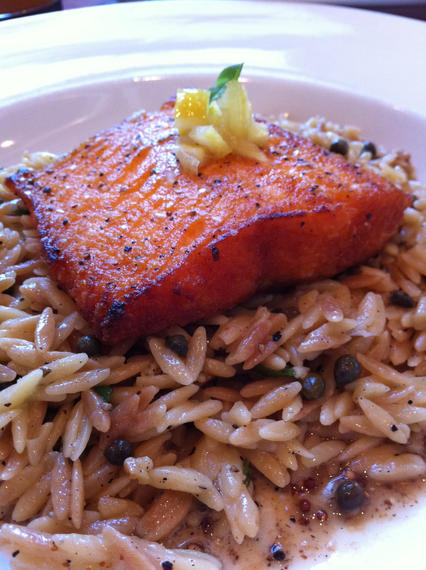 Arctic Char
(with a Warm Salad of Toasted Orzo dressed with a Caper-Mustard Vinaigrette)
About as attractive as a dish of arctic char and orzo can be, it is the taste that truly matters.  This dish made us happy, too.  Arctic char with a perfectly crisp exterior yielded to the gentle pressure of our fork with a tender, moist, and flaky interior.  Topped with a preserved lemon relish,  this generous mound of warm orzo salad was simultaneously light and filling.  Though, we would have enjoyed some sort vegetable in the orzo salad.
Leon's Full Service
121 East Ponce De Leon Avenue
Decatur, GA 30030
404 687 0500