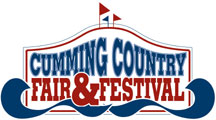 The Cumming Country Fair & Festival will be open now through October 12, 2008.  Concerts, a ton of rides, games, assorted acts and local entertainment are just some of the offereings.  They also offer a Heritage Village complete with Barber Shop, Blacksmith, Cider Press, Cotton Gin, Doctor's Office, General Store, Post Office, Printing Press, Saw Mill, Shingle Mill, Syrup Mill, Water Wheel Corn Mill, Grist Mill, Dentist's Office, Steam Engine Shed, Baptist Church, Methodist Church, One Room School  House, Chicken House, and Indian Village. 
The Cumming/Forsyth Historical Society has a booth offering historical books for sale and some authors will be present throughout the duration of the fair.  Each night The Piece Makers Quilting Guild and the Cumming Sunset Quilters have a quilting party where quilters can meet and sew.  Many beautiful quilts will be on display.  And, one quilt will be raffled off.
Check out their website for concert times, festival acts, local entertainment schedules, and directions.  Click here for the Cumming Fair website.
Cumming Fairgrounds:
235 Castleberry Road
Cumming, GA 30040
Hours:
Monday – Thursday 4PM – 10PM
Friday 4PM – Midnight
Saturday 10 AM – Midnight
Sunday 12:30 PM – 7PM
Admission:
Adults            $7.00
Students (5-18)    $3.00
4 and Under       Free!!!
Parking:          $3.00
Handicap Parking  $3.00