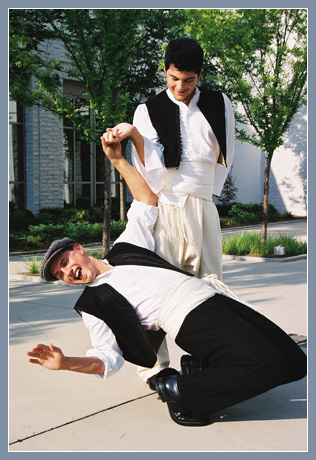 The Atlanta Greek Festival offers Greek music, dancing, food, pastries, coffee (Greek & regular), drinks and shopping for Greek specialty items.  Jewelry, gold, ceramics, books, cookbooks, clothes, and other handcrafted items will be available in the various gift shops. 
One of the highlighs at the festival this year is a special preview of Georgia Shakespeare's production of Antigone.  This special sneak preview will be tonight ( Friday, October 3rd) at 8pm.  Selected scenes will be performed by the Georgia Shakespeare cast.
HOURS
11am – 11pm on Friday & Saturday
12pm – 7pm on Sunday

LOCATION
Greek Orthodox Cathedral
2500 Clairmont Road, N.E.
Atlanta, Georgia 30329
Exit #91 off I-85
(On Clairmont Rd. between Briarcliff Rd. and LaVista Rd.) 
ADMISSION
$3.00 for Adults, $1.00 for children under 12 years of age.
BUY ONLINE TICKETS
Tired of standing in line? Buy your tickets online at a special discount.

PARKING
FREE PARKING & SHUTTLE BUSES from Century Center Office Park on Clairmont Road, adjacent to I-85.

CAUTION ON PARKING – VERY IMPORTANT!
Please do NOT park on the side streets around the church, which have the "No Parking" signs. Cars will be towed away from these areas.  Please use the areas indicated above for parking and the free shuttle buses. THANK YOU!

DRIVE – THRU
A Taste of Athens in Minutes: The Atlanta Greek Festival Drive-Thru. Click here for the drive thru menu!