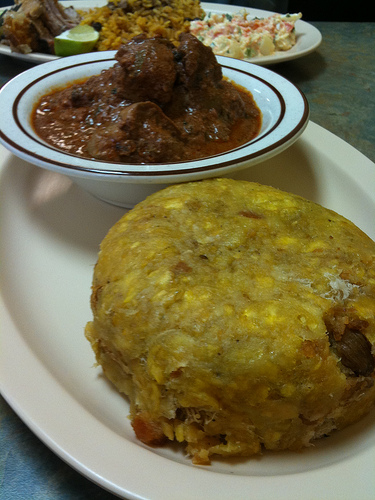 Mofongo stuffed with fried pork skin
The king of Caribbean comfort food… mofongo is a wonderful concoction of fried plantains mashed in a mortar & pestle.  Then, filled or topped with pork, fried pork skins, stew, or seafood.  This is a wonderful version of the dish with very little added fat.  The filling of fried pork skin with fried bits of pork were still superbly crisp from the fryer.  While some might prefer a bit of additional moisture, I prefer the lower fat content.  I love living in a city where mofongo can be found in the 'burbs!  Cheers to OTP mofongo!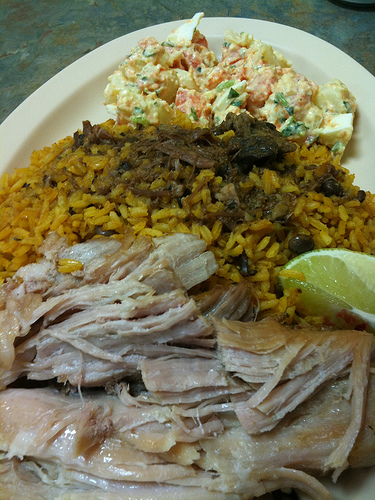 Roast Pork with yellow rice and potato salad
This gigantic hunk of pork nearly matches the size of the yellow rice mound.  Not only is the serving generous, but, the pork is deliciously moist, fork-tender, and laced with lovely spice.  Bay, oregano, and an assortment of herbs perfume this pork beautifully.  The potato salad deserves praise and mention.  The addition of tender red pepper pieces to this salad make it something special.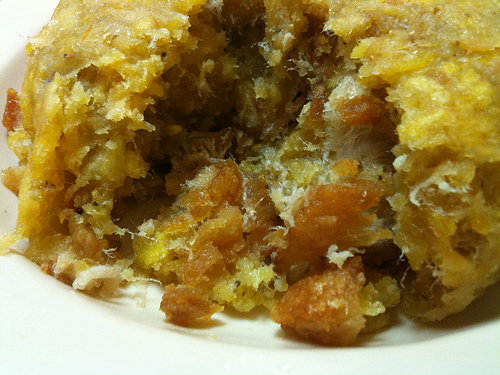 Look at those yummy bit of crispy pork!
While named Dominican Restaurant & Bakery, we didn't see any baked goods.  But, there was an empty glass case on the counter that may or may not hold bakery items earlier in the day.   We'll be checking in on them to find out.
Versase Dominican Restaurant and Bakery
510 Pleasant Hill Road
Lilburn, GA 30047
770 931 8412