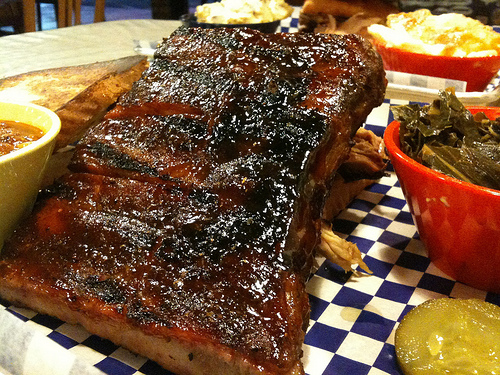 BBQ rib & pulled pork combo with Brunswick stew & collards
While every element of this plate was cooked with skill, the bbq spices & flavors were not my favorite.  One particular spice (coriander, I believe) gave the ribs a flavor that reminds me of brisket.  I like brisket, but, I don't want my ribs to taste like brisket.  Both the ribs and pulled pork lacked the right amount of smoke.  For me, the bbq sauce overpowered the ribs.   I could barely taste the meat.  The serving of pulled pork was oddly small.  This was particularly strange, given the generous serving of ribs.  I would say this was a fluke.  But, both portions on two separate orders were identical in size.  On the bright side, both orders of pulled pork were perfectly tender and moist.
The collard greens were exceptionally good and the Brunswick stew was chock full of meat.  I like a good dose of black pepper in my Brunswick stew, so I was very happy with Community Q's hearty version.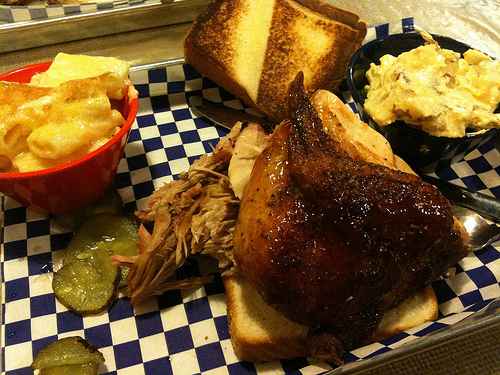 Chicken & pulled pork combo with potato salad and mac & cheese
The chicken was gorgeously succulent, tender and luscious.  This might be the best BBQ chicken in Atlanta.  Well, maybe second best.  Without a doubt, this is the only place in town that comes close to the quality of Fox Bros. BBQ chicken.  We both agreed that the BBQ chicken and the sides alone warrant a second visit.  The mac & cheese was ridiculously decadent and delicious.  Potato salad was rich with mustardy good flavor and the potatoes were super tender.  If smashed potatoes and potato salad were married… this would be the baby.  We both loved the flavor and comfort food genius both of these sides demonstrated.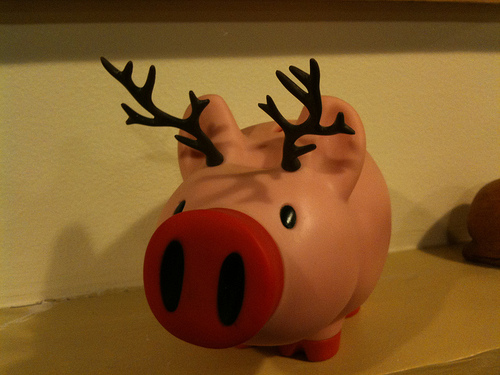 And, any bbq joint with fun-loving kitschy pigs gets an extra bonus point in my book.
Verdict:  We will most definitely be back… soon!
Community Q BBQ
1361 Clairmont Road
Decatur, GA 30033
404 633 2080