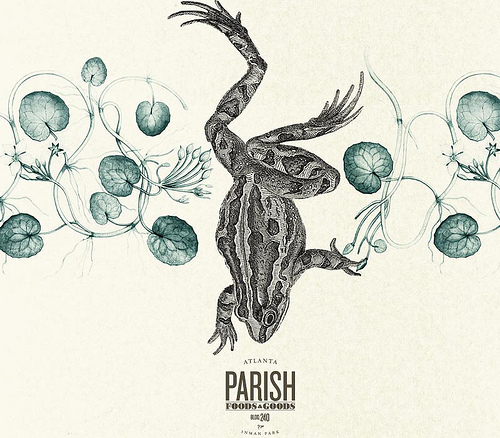 The Setting:  Parish Foods & Goods is housed in a charming two story building jam-packed with character.  From the exposed terra cotta bricks to the antique mirror that towers over the bar to worn leather chairs in the entry that scream "sit on me", Parish welcomes you even before the staff.  Warm terra cotta brick and remnants of faded green plaster cover the walls reminding us of the past.  While, flashes of red hint at whimsy and drama.   Red glass chandeliers hover over a stairway that remind us of the treats below. 
The Staff:  One of the best restaurant staffs in Atlanta!  They're an incredibly friendly and professional crew.
The Food:  In a word… excellent.  We've yet to find something on the menu that we haven't enjoyed.  We haven't sampled the entire menu… yet.  But, everything to date has been perfectly prepared and service was timed beautifully.   On our last brunch visit, even though the restaurant was packed to capacity, our meals were served at the perfect moment… just as we were finishing our first cup of coffee.
Favorites… so far…
Parish Benedict:  Delicately poached eggs in a creamy tomato hollandaise with bits of shrimp and crawfish are served with a wedge of crepes layered with ham and cheese.  Topped with a handful of pea shoots, this is one of my favorite versions of eggs benedict this city has to offer.  (The wedge of layered ham and cheese crepe could function as an entree on its own.)
Savory cheesecake with chicken sausage and crawfish:  light-as-a-feather cheesecake contrasts beautifully with the rich sausage, crawfish tails and pecan crust.  Served with a mushroom salad that's topped with slivers of carmelized lemon rounds… what a perfect companion to this lovely dish!  The earthy scent and taste of mushroom pair well with the bite of lemon.
Chicken Pontalba:  A tender breast of chicken with hollandaise sauce garnishes a pile of perfectly crisp hash brown potatoes with andouille sausage.  YUM!
Shrimp and Grits:  Small baby shrimp on a bed of rich, creamy grits are drizzled with garlic cream.  (Contender for best grits in Atlanta)
Stars of the Day:  Everything we've tried so far…  And, don't miss the baked goods down below… croissants, tarts and danishes!  The chocolate croissants are perfection coupled with their powerful Martinez coffee!  Yum!!
Next time:  We'll be sampling the ice cream and sorbet
Parish Foods & Goods
240 North Highland Avenue
Atlanta, GA 30307
 404 681 4434