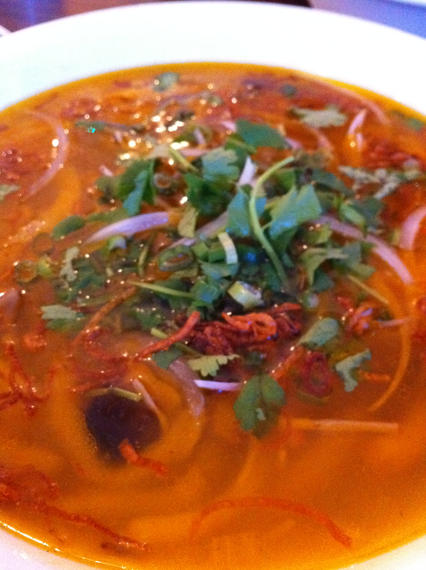 Vietnamese Udon with Crab, Shrimp & Pork
Fat, chewy udon noodles swim in a rich broth garnished with fried shallots and cilantro.  But, that's not all.  There's also a crab claw, crab meat, shrimp, a hunk of pork, mushrooms and a plate filled with mung bean sprouts and herbs.  It's more than a meal.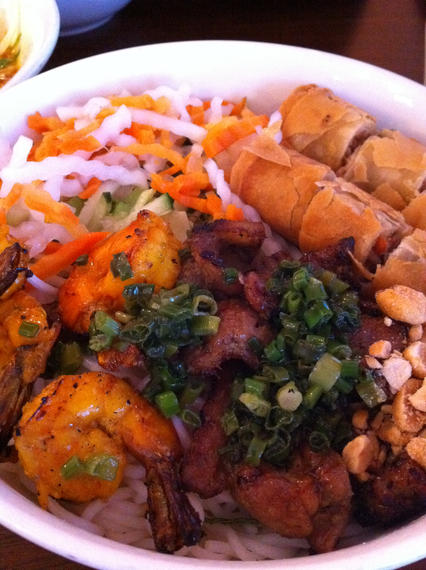 BÚN ĐẶC BIỆT
Rice noodles topped with grilled pork, shrimp, egg rolls, chopped peanuts and pickled vegetables.
Yum.
The picture really says it all.  It was a perfect blend of savory grilled meat and shrimp with peanuts and bites of egg roll for crunch.  Herbs and pickled vegetables added touches of freshness.  Each bite was filled with a new blend of flavors.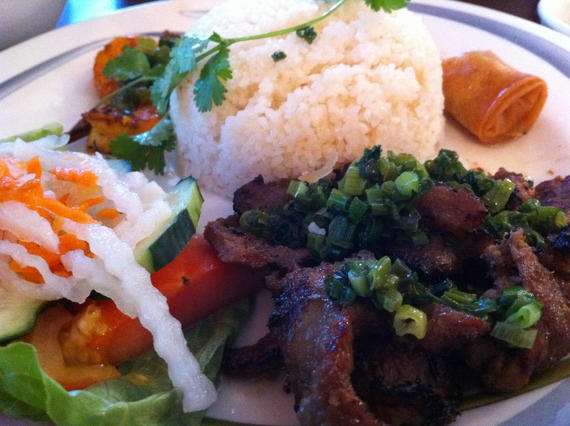 Broken Rice with Grilled Pork, Shrimp, Egg Roll and Pickled Vegetables
(The egg roll barely made it into the shot.)
All of this on a frigidly cold day with a bottomless pot of hot jasmine tea …what more could anyone want?  We could eat like this every winter day.
Thanks to The Blissful Glutton's Bliss List 2010 for inspiring our visit.
Quan Ba 9
4285 Buford Highway NE
Atlanta, GA 30345
404 636 2999