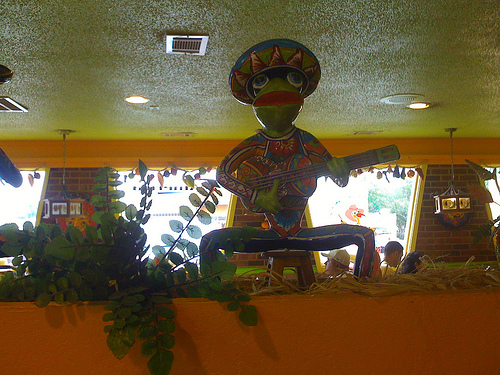 The Setting:  Ultra Casual…  El Norteno on Jimmy Carter Blvd. appears to be housed in an older building that was a Pizza Hut in a previous life.
The Staff:  Friendly and helpful
The Food:  The menu offers a wide assortment of casual Mexican fare…  burritos, fajitas, enchiladas, and grilled meats.  And, the Pollo Asada (Charcoal-grilled chicken) in particular is a real stand out.  Generously sprinkled with an adobo spice blend and then grilled to perfection.  We've visited both locations (Jimmy Carter Blvd. and Buford Hwy.)on a number of occasions.  On every visit, the chicken has been grilled beautifully with just a bit of char on the outside and moist on the inside.  
The presentation is simple.   The grilled chicken is piled high on one side of the plate, while shredded lettuce topped with a tomato slice and re-fried beans fill the rest of the plate.  Since I'm not a huge fan of refried beans, they happily substituted a giant mound of fries.   The fries offer the added benefit of being a great way to sop up one of their many sauces.  Not that you need one, the tortilla chips and salsas are offered up on a small salsa bar… to take as you please.  The green salsa with a generous dose of jalapenos and the chipotle salsa are both noteworthy.  The chipotle salsa, in particular, offers a well-balanced blend of spice, smoky chipotle and crema. 
El Norteno's gaucamole is also worth mentioning.  Large avocado chunks are combined with finely diced onion, tomato and just a hint of cilantro… Yum!  My preference has always been for the chunkier versions of guacamole and El Norteno's version fits the bill.
The Star of the Day: Pollo Asada (Charcoal-grilled chicken)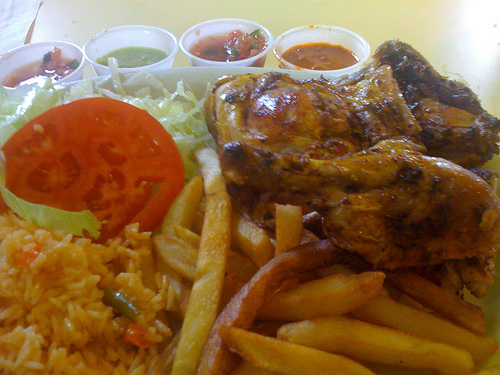 El Norteno Mexican Restaurant
5528 Jimmy Carter Blvd.
Norcross, GA 30093
678 646 0365