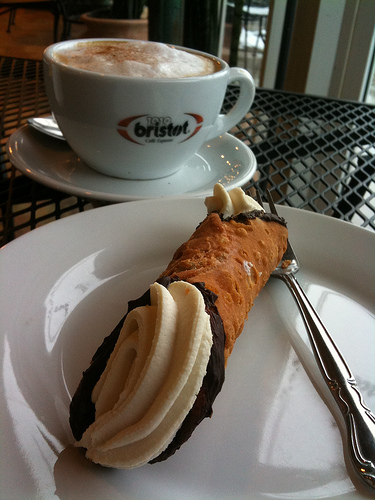 Pleasantly crisp, this cannoli is lightly dusted with cinnamon and the interior is brushed with a layer of chocolate.  The chocolate coating provides a barrier between cream and shell.  The cream is rich, dense and very lightly sweetened.  Simply put, this is a traditional Italian-American cannoli.  Personally, I love this simple traditional variety.
Over the years, originating in New York bakeries, the ricotta filling has evolved into a sweeter concoction… sometimes including pastry cream and sweetened mascarpone in the mix.  I enjoy both of these varieties, too.  But, clearly, these are cannoli altered to meet Americans taste for sweeter treats.  The sweeter varieties deviate further from the original Sicilian cannoli.  A traditional Sicilian cannoli consists of a fried pastry shell incorporating marsala into the dough.  The shell is filled with a dense ricotta cream filling flavored with candied citron, candied orange or orange flower water.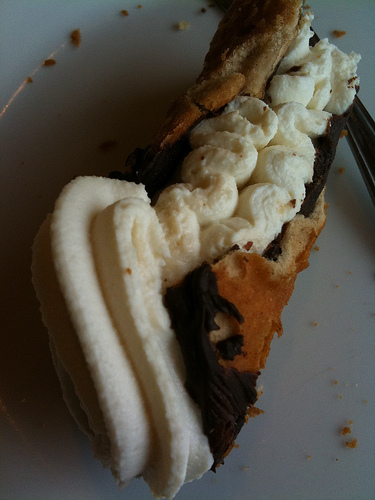 Cross-section of a Cannoli
Buckhead Italian Market & Bakery appears to function as a to-go shop with a number of refrigerated cases holding pre-made dishes and made to order sandwiches.  We saw only a handful of baked goods: a small assortment of cookies, tiramisu and cannoli.
Buckhead Italian Market & Bakery
3655 Roswell Road
Atlanta, GA 30342
404 467 9217