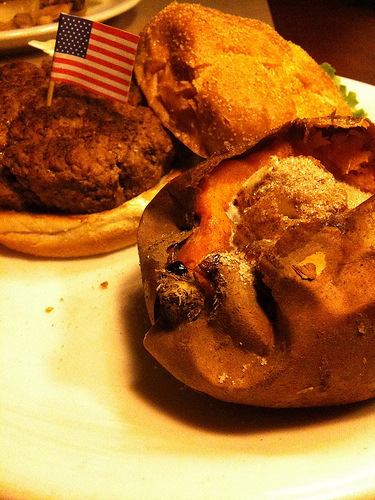 Buffalo Burger & sweet potato with cinnamon butter
I can't tell you why.  But, I really really want to like this place.  Maybe it has something to do with the incredibly friendly staff and charming surroundings.  For me, stepping into Ted's Montana Grill feels like stepping onto a movie set.  The set design? …Steakhouse circa early 1900's (1920? maybe).  From the intimate booths to the more casual wooden chairs there are touches of simple elegance.  And, a trip into the bathroom completes the journey back in time.  Marble, brass and a powdered hand soap that leaves no doubt of the experience they are trying to create for us.
Sadly, the food is the weak link.  Maybe that's too harsh.  The burgers are the weak link.  (We saw a number of gorgeous-looking steaks on other tables.)  We've both ordered burgers on three separate occasions.  That's six burgers in all.  And, somehow they managed to overcook each and every one of those burgers.  Given this fact, it speaks to the quality of the meat that they were still full of flavor.  But, an overcooked burger is a very sad thing.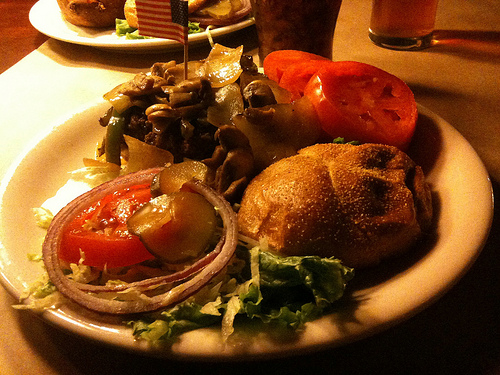 Buffalo Burger with tomato slices
Under normal circumstances, if we're given two bad meals in a row, you don't get a third chance with us.  Why did we give this place a third chance?  I just don't know.  Even more bizarre… I still want to like this place.  I must be in a very masochistic mood.  But, this is it… one more chance.  We really mean it this time.
Ted's Montana Grill
5165 Peachtree Parkway
Suite 205
Norcross, GA 30092
678 405 0305