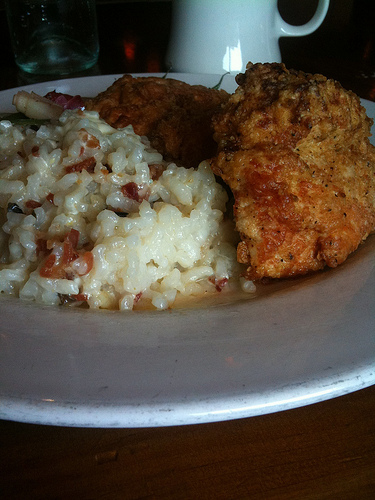 Fried Chicken with bacon bleu risotto
Wow, this is the sort of meal that should require a disclaimer:  Don't make plans for today… you'll need a nap… soon.  The bacon bleu risotto was incredibly rich, buttery, creamy, and smooth.  A generous dotting of bacon added smoke appeal and depth of flavor.   The genius on the plate was the addition of peppery green beans with bits of roasted red peppers.  Fresh peppery beans kept the meal from being unbearably heavy.
Two fried boneless chicken breast pieces were miraculously light by comparison.  The golden brown shell crumbled pleasantly in our mouths with each bite.  It always amazes me when I can use the term delicate in reference to a deep-fried food.  But, it's true in this case.  There was a lovely delicate quality to this fried chicken.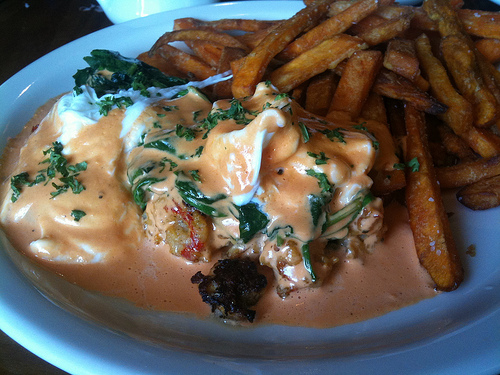 Crawfish Benedict with sweet potato fries
Crawfish cakes were a pleasant change from the more common crab that frequently appears on brunch menus.  And, crispy sweet potato fries are always a winner in my book.  The one negative:  I wasn't sold on the creole hollandaise.  It  possessed a cloying thickness that seemed to cover all my taste buds.  With a sauce this heavy, it needs to be applied with a lighter hand.  On the other hand, my honey had no problem devouring this dish.  He ate every bit.  So, maybe it's just me.
Want more?
Random Oenophile gave a nice rundown of wines they sampled at Tuesday's wine special.  (A weekly event, I believe.)  They sampled eight by-the-glass offerings a couple days ago.  Check out their blog here:  Random Oenophile
Feast
314 East Howard Avenue
Decatur, GA 30030
404 377 2000