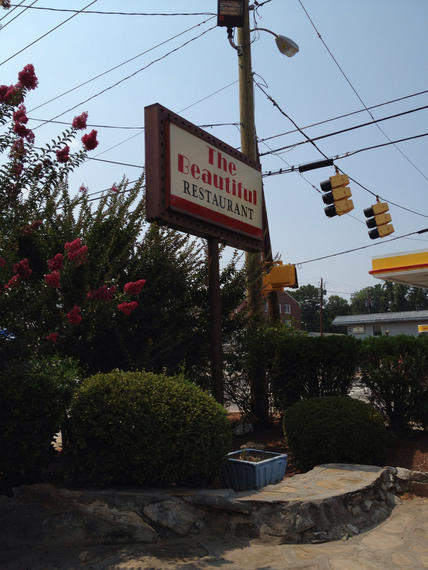 The Beautiful Restaurant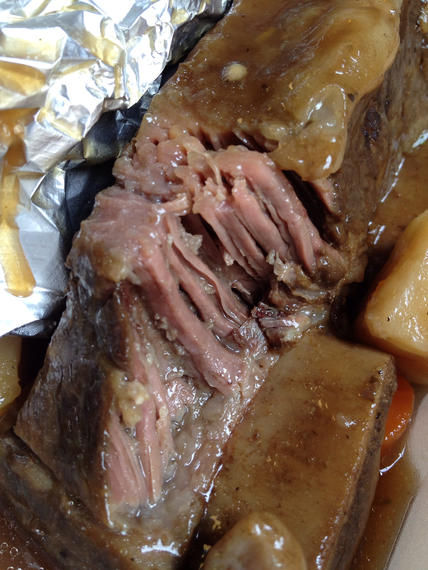 3 Short Ribs
That's the generous portion served at The Beautiful Restaurant.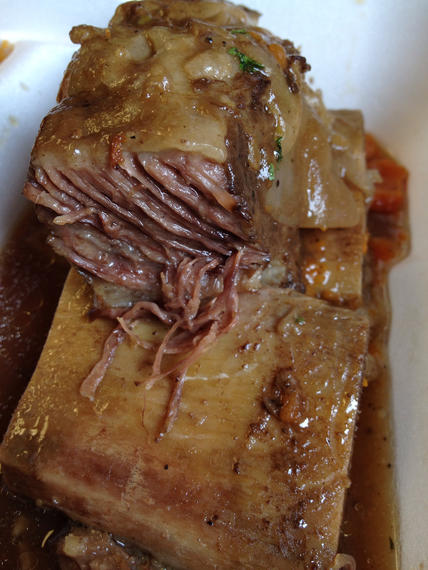 Short Ribs in Brown Gravy
This is pot roast's richer, tastier cousin.
Incredible beef flavor was the hallmark of every bite.  But, what really appealed to us was the fork, tender beef.  This short rib was braised the perfect amount of time to allow the beef to reach that succulent melt-in-your-mouth tenderness.  But, it wasn't braised long enough for the flavors to escape the meat.  We've all tasted that piece of beef that falls apart into shreds and lacks flavor from a cook's neglect.  That was most certainly not this dish.  This was divine comfort.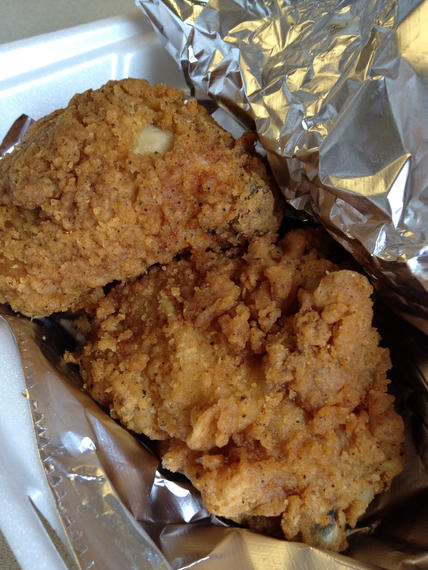 Fried Chicken
Crisp, crumbly breading surrounds tender thigh meat.  They were completely sold out of white meat.  And, we could understand why.  This chicken is good… really good.  We'll be adding this restaurant to our list of fried chicken favorites.  This place might not top the list.  But, it's a very worthy addition.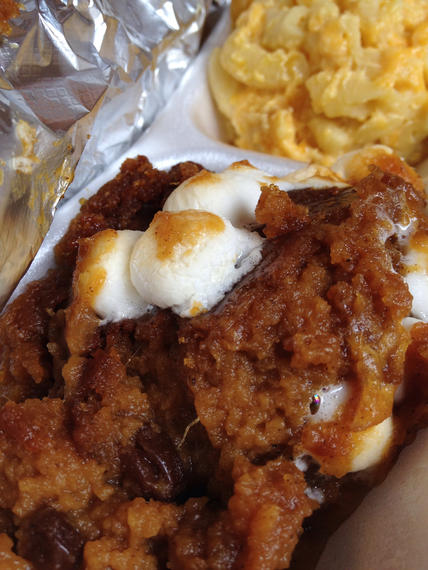 Sweet Potato Casserole & Macaroni 'n Cheese
Sweet ground clove, plenty of sugar, raisins and marshmallows touched with golden brown edges, this was a dessert masquerading as a vegetable.  But, we both loved it.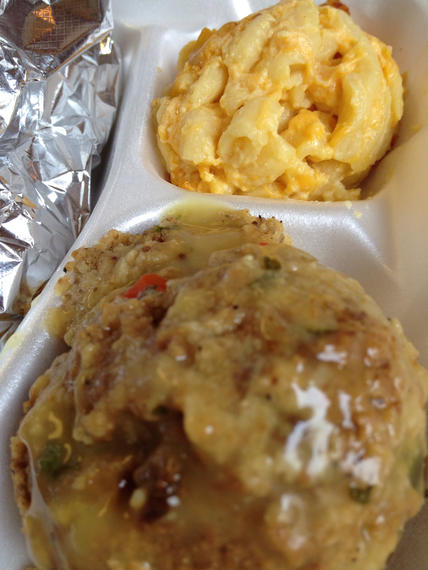 Mac & Cheese And Stuffing With Gravy
Creamy, custardy and cheesy, that's one of the ways we like our mac & cheese.  Meanwhile, the cornbread stuffing has a pudding-like quality that reminds us of spoon bread.  Topped with brown gravy, this is richer and tastier.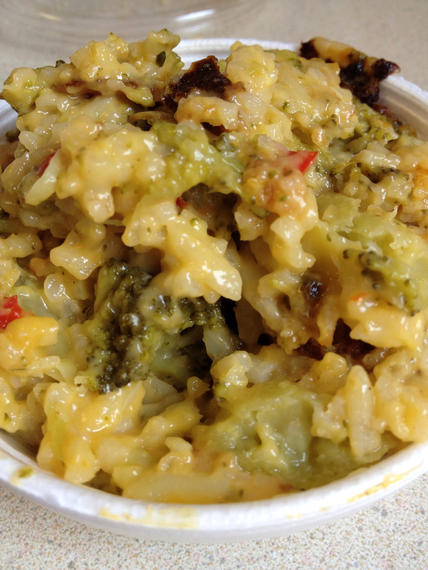 Broccoli & Rice Casserole
Super duper cheesy, the broccoli is really an afterthought.  But, who doesn't love cheesy comfort food casseroles?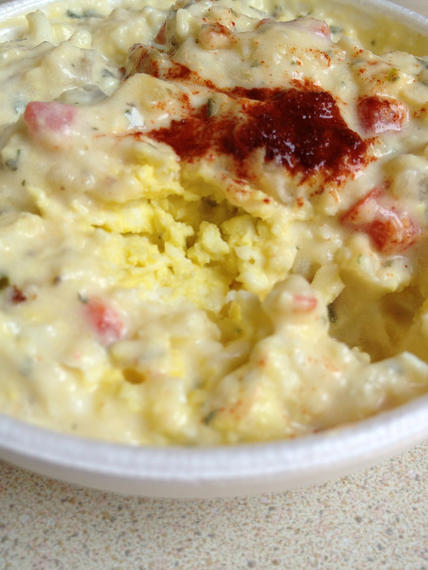 Potato Salad
Eggy, tangy, creamy, and mildly sweet, this potato salad had us craving backyard barbecue.  It was chock full of crumbled hard boiled eggs, pimento and relish.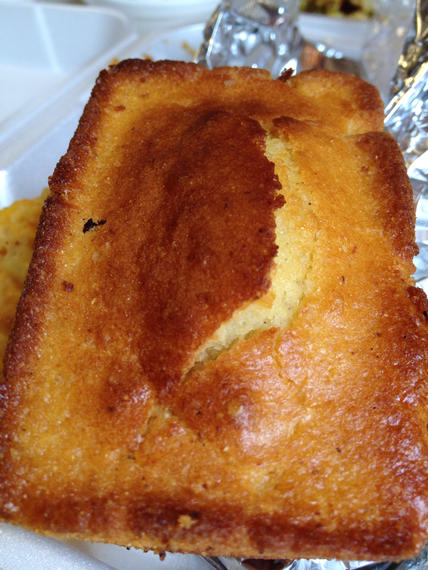 Southern Style Corn Muffins
Moist, crumbly and perfuming the air with the scent of sweet corn, loads of fresh cornmeal made this great muffin what it is.  This perfect specimen was dense  from the cornmeal rich batter and ever so mildly sweet.  There's no doubting the Southern roots of this muffin.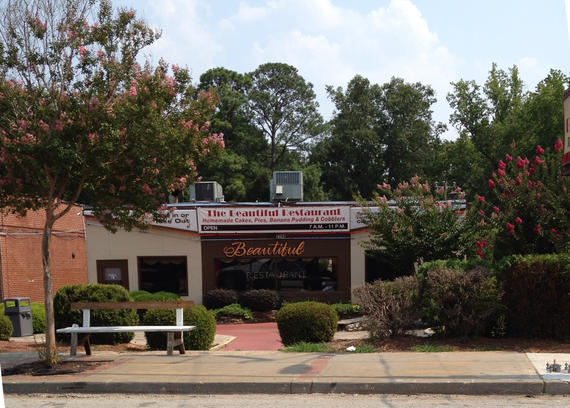 The Beautiful Restaurant
2260 Cascade Road Southwest
Atlanta, GA 30311
404 752 5931