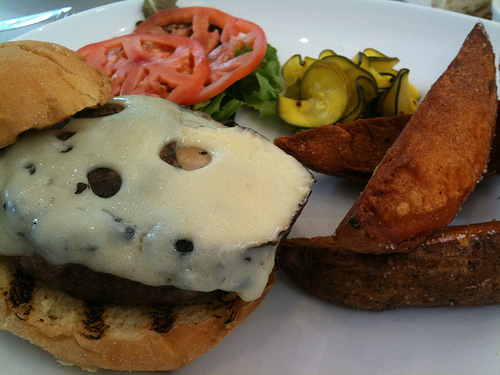 Table 1280 Burger with Portobello Mushrooms, Swiss & Steak Fries
The Best Burger in Atlanta
Part 1
Who's got the best burger in Atlanta?  I don't think there is an answer to this question.  There are many outstanding burgers to be had in our fair city.  When you think of a burger, do you think of a simple diner burger? …or do you prefer a more upscale burger? …or a steakhouse burger?  Or, is it possible that a fast food chain might be able to create such a magical thing as the "perfect burger"?  For me, I can easily answer no to the last of these alternatives.  But, all of the others are in the running.  Taste is relative.  And, while the burger might be a simple food at heart, it is one that most of us have eaten since childhood.  We all have our own criteria.  So in this instance, I find it more appropriate to create a list of the possibilities. (over time, obviously)
Best Burger in Atlanta
First up:  The Upscale Burger
The Contenders: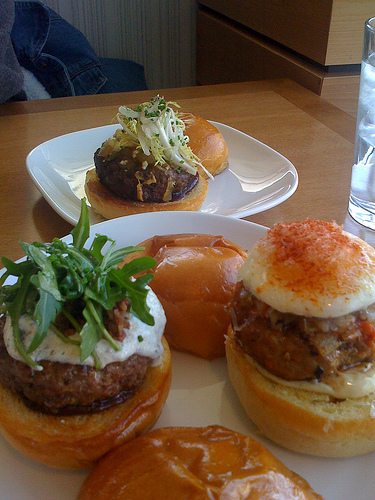 Flip Burger — Butcher's Cut & Lamburger
Both of these Flip burgers (and several others) deserve to be included on this list for originality and superior quality ingredients.  And, possibly the best bun of all the offerings I'll be mentioning today.  The only flaw in this brioche-style bun is its delicate texture.  Ideally, I'd like a bit more structure.  The flavor, however, is near-perfect.  All of our burgers have been cooked to near-perfect temperatures.  The fries are good, but, they could use a bit of work.
Table 1280 Burger
(Pictured Above)
Incredible flavor, the meat is rich and beefy with a touch of charring.  The added elements of portobello mushrooms & cheese add to the rich beefy flavor and complements it well.  The burger itself was cooked to a perfect temperature.  Considerable bonus points added for the perfect super-dark golden brown steak fries.  Fries that can hold their own next to the burger are a requirement for us.  And, at Table 1280, they are divine.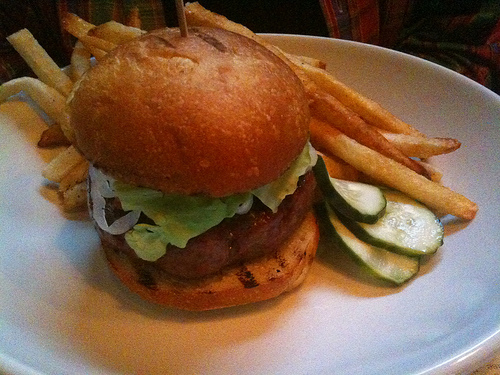 Abattoir Burger with fries
Rich… beefy & porky with an almost bacony smokiness.  The flavor is perfection and the bun is lovely with pleasant hints of smoke from the grill.  And, it was cooked to the perfect temperature.  But, the texture is a bit unique bordering on odd.  Mousseline-like in texture… but, with a distinct firmness.  The fries have a lovely crisp exterior with a moist, tender center.
Bones
(picture coming soon)
This burger has loads of old school charm with its big fluffy sesame seed bun.  And, I love a high ratio of bread to meat.  Some might prefer a smaller bun.  As expected, the beef is cooked to perfection.  Deep beef flavor with a nice amount of fat for flavor.  And, we've experienced a nice bit of carmelization to the meat.  Both the fries and the buttermilk onion rings are solid.
The Counter
Our burger of choice:  1/3 lb burger with fried egg, jalapeno jack, & garlic aioli (or peppercorn steak sauce)
A bit on the low end of upscale, but, squeaking onto the list with an offering that has good flavor and amazing consistency in our experience (Even under full-house conditions).  Excluding the English muffins, we love the buns (the English muffin itself is fine… it just can't hold up to the big burger).  Bonus points have been added for the best sweet potato fries in Atlanta.  And, many of the large assortment of condiments work well with both the sweet potato fries and the regular fries.
More to come… including a list of the best diner burgers and low-end burgers