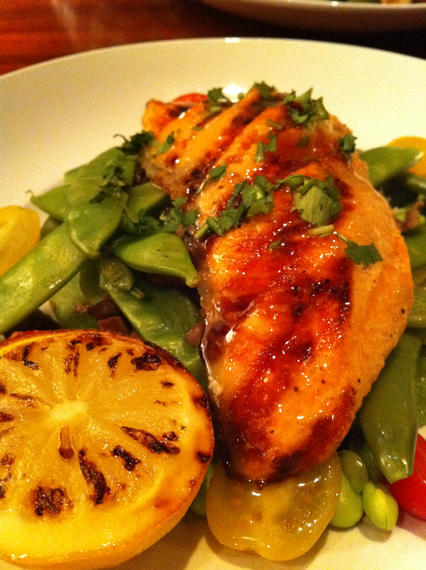 Grilled Tasmanian Trout with Lemongrass Sauce
This wedge of Tasmanian trout was a gorgeously vivid shade of orange.  Low light conditions (and bad photography) failed to capture that vivid richness.  The richness of its orange flesh matched that of a steelhead trout.  But, the size and thickness of this cut matched that of a center cut salmon steak.  Offered as a $24 dollar daily special, this delicate piece of fish was grilled to the perfect state of doneness.  The lightest touch of the fork caused the fish to escape from its skin and fall into buttery, silky flakes.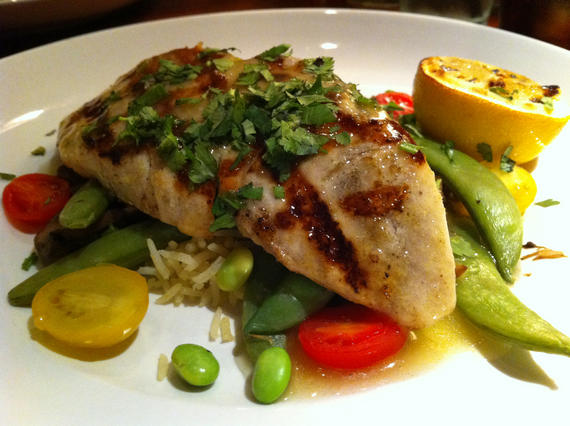 Mahi-Mahi with Lemongrass Sauce and Basmati Rice
This is the same dish prepared with mahi-mahi.  It was interesting to contrast the firmer, stiffer flesh of the mahi-mahi (AKA dolphin, or more popularly dorado).  This is a nice, hearty fish to grill.  But, it lacked the subtle richness and buttery nature of the Tasmanian trout.
Seasons 52
90 Perimeter Center West
Dunwoody, GA 30346
770 671 0052