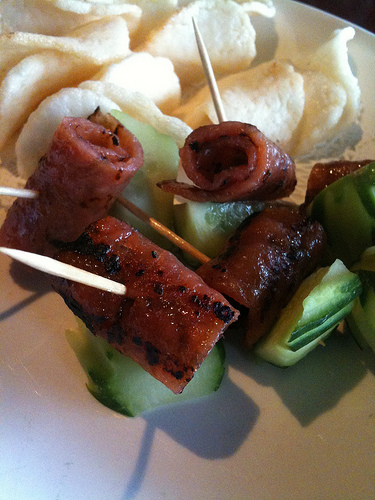 Prawn Crackers with Malaysian Pork Jerky
We lived within a handful of blocks to the Toco Hills location of Top Spice for many years. (This was over 5 years ago.)  Some weeks, I believe we ate there more often than we ate at home.  It was our favorite spot of a quick weekday meal.  Over the years, we've probably ordered just about everything on the menu.  I can easily say we've never had a bad meal.  The food might be a bit on the mild side.  But, it's consistently good.  There have been a few glitches here and there.  For example, on this visit, the prawn crackers (above) were a bit on the greasy side, but still enjoyable.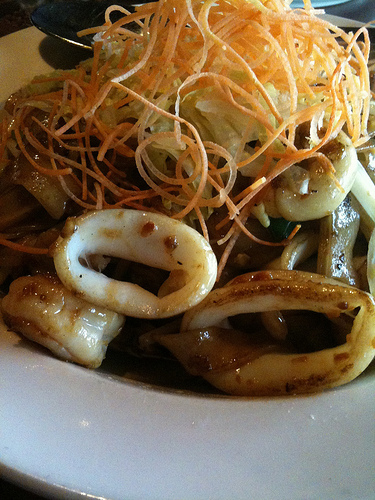 Penang Char Kway Teow
The squid in this dish were cooked perfectly.  They were so tender they almost melted in our mouths.  There was a nice amount of shrimp and squid tossed in with the flat noodles.  And, the hint of burnt caramel adds a nice sweet and savory note.  Though, I'd enjoy a bit more heat.  (That's my one chronic complaint.)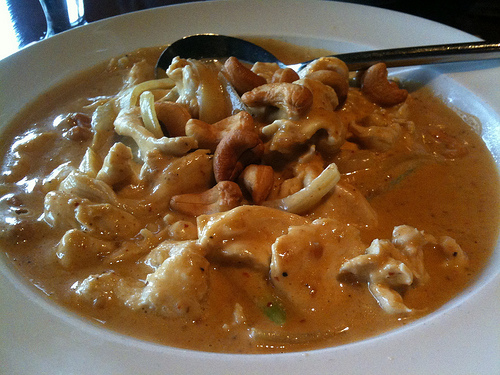 Masaman Chicken with roasted cashews
The avocado is hidden in the sauce.  But, there was a generous number of large slices.  And, the cashews were nicely roasted.  This is one of our favorite comfort foods… Southeast Asian style.
Top Spice
3007 North Druid Hills Road
Atlanta, GA 30329
404 728 0588