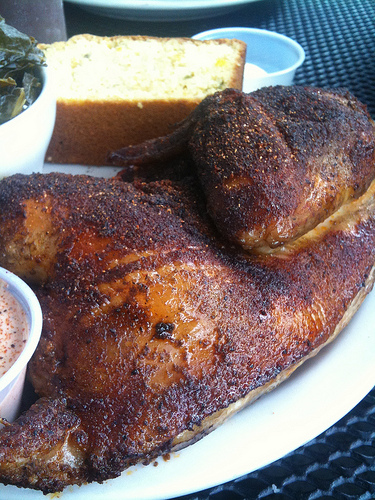 Smoked Chicken, White BBQ Sauce, Collards, & Cornbread
The only accurate description for this chicken?  Perfection.  This chicken (yet again) showcases the perfect use of smoke and spice.  And, it was cooked to the perfect state of doneness.  You know when a piece of chicken is cooked so perfectly it nearly melts in your mouth?  Yes, that's what they've done… again.  We've lost count of the number of perfect and near-perfect meals we've eaten at Fox Bros.  The only dilemma… Should we choose their ribs, chicken or pork?  And, for the sides, collards are mandatory for me.  They're incredible.  The balance of flavor is amazing.  Each bite gives a bit of smoke, meaty richness and spice with a perfect rush of vinegary tang to round out the heat.  Sometimes, I opt for their yummy mac N cheese.  But, more often, I choose the sweet and spicy cornbread.  This rich & dense cornbread served with sweet butter could easily be a meal.  It would be an understatement to call the serving size a "slice".  It's more like a hunk.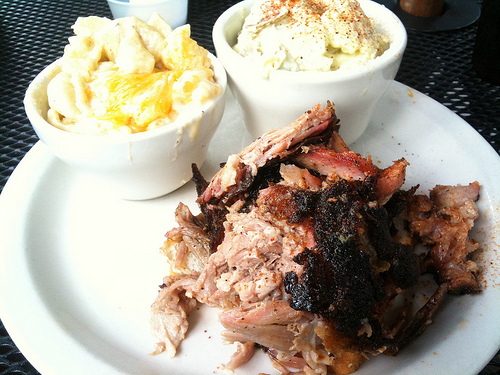 Pulled Pork, Mac N Cheese, & Potato Salad
Yep, their pulled pork was perfect too.  (Again.)  Smoky, tender, rich & meaty pork.  Yum.  And, the serving size can only be described as ginormous.  Oh yeah… they have an great patio, too.
We've loved Fox Brothers BBQ from day one.  They're close to BBQ perfection.
Fox Bros BBQ
1238 Dekalb Avenue
Atlanta, GA  30307
404 577 4030