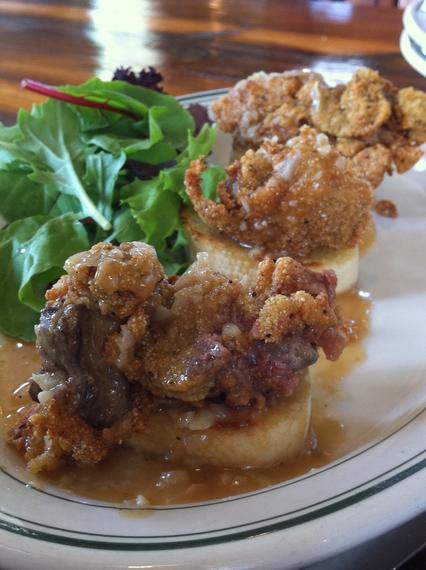 Fried Chicken Liver Bruschetta
We both loved this dish.  That is really saying something when one of us is on the fence about their relationship with chicken livers, in general.  The cornmeal shell was crisp and golden.  Yet, each chicken liver had just a hint of pink.  This is a make or break point with us.  When the touch of pink is gone, the chicken livers turn mealy, bitter and extremely unpleasant.  We would have happily made a meal of this dish.  And, we both spent some time discussing how this could work.  We both agreed that served over a bed of buttery grits dotted with cloves of roasted garlic, they'd be a knock out.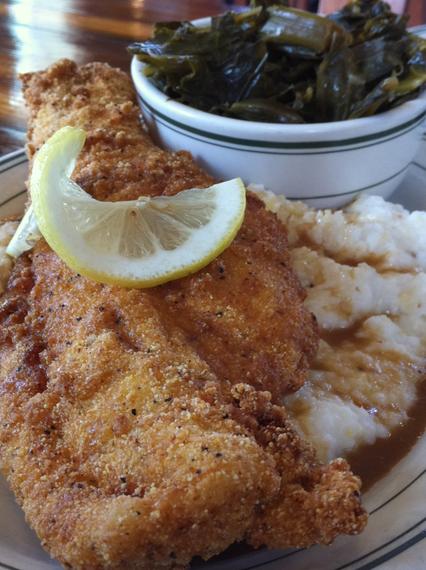 Fish & Grits
So close… That really sums up this dish.  Everything was so close to being a winner.  The fish itself was a gorgeous piece of tender, flaky flounder and the breading was perfectly crisp.  But, there wasn't a speck of salt used in the preparation.  The collard greens were mild, but, good.  When we drizzled a bit of the Carolina BBQ sauce on them, they were great.  The grits were a bit bland.  And, the sauce was listed as red-eye gravy.  This should have a good amount of salt from the ham alone.  But, that wasn't the case.  We believe this sauce was a simple brown gravy.  If each element of this dish were to be seasoned properly, it has the potential to be a real hit.
(Note:  We both prefer very little salt in our food.  And, if there was the tiniest amount of salt in this dish we would have been happy)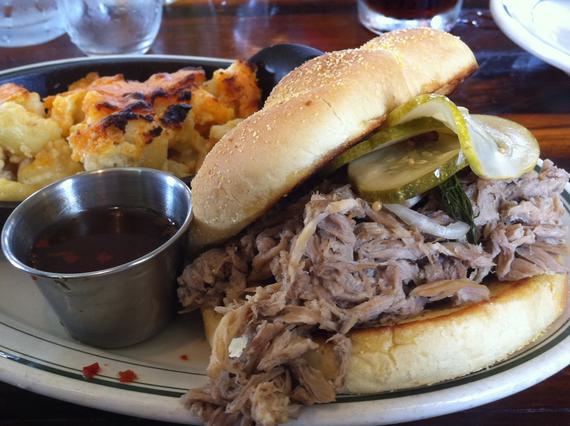 BBQ Pork Sandwich with Mac & Cheese
This sandwich had a good amount of tender pork.  Tender with a nice Carolina BBQ sauce, we enjoyed the pork… not the bun.  The bun was soggy and falling apart after 3-4 bites.  The Mac & Cheese was tasty, but, the cheese seemed to be a bit of an afterthought.  If we had to guess, we'd say the filling was predominantly ricotta (or some type of farmers cheese) with cheddar mostly or only on the top.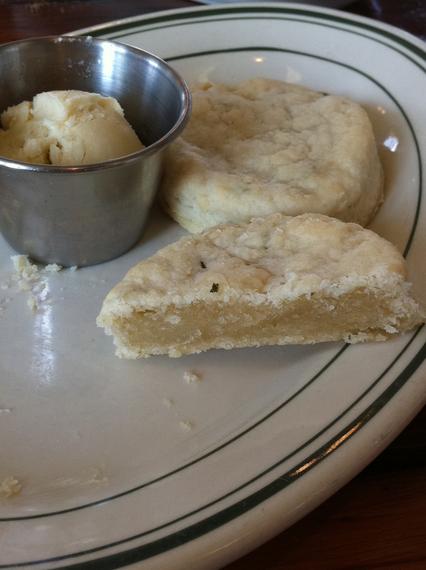 The Biscuits
These were the only true failure of the meal.  At first glance, we thought they were some type of shortbread.  But, once we cut one open, we realized it was an uncooked and unleavened biscuit.  We politely showed them to our server.  She apologized and quickly returned with a plate of identically uncooked and unleavened biscuits.  We looked at each other in confusion.  After shooting a few glances back and forth at each other, we cut into the biscuits and couldn't help but giggle.  Yes, they were most definitely identical to the first two biscuits.  They went untouched.  But, we periodically scowled at the ugly little things throughout our meal.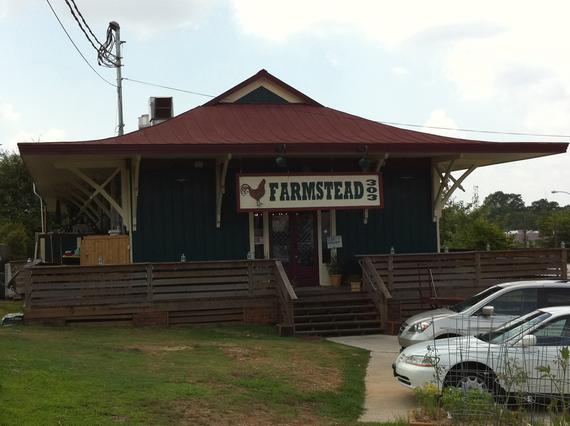 We've always loved this old building.
Farmstead 303
303 East Howard Avenue
Decatur, GA 30030
404 377 3550