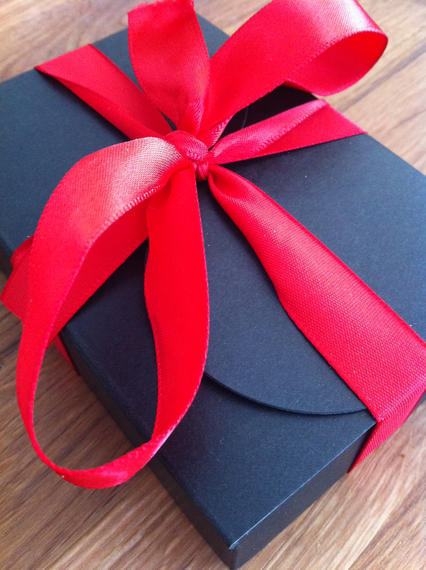 Wrapped with a pretty red bow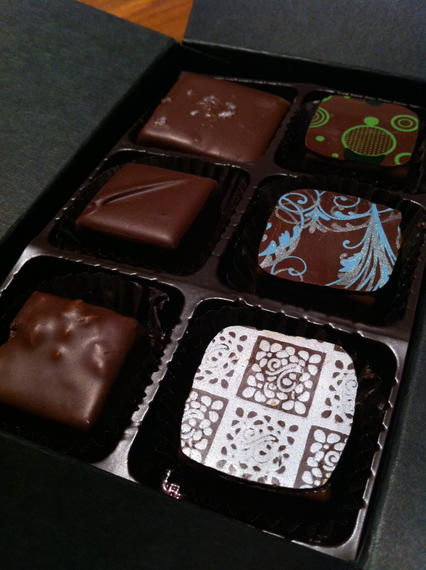 Inside
(two protective layers of glossy tissue were removed prior to this shot)
From top left (clockwise):
Fleur de Sel Caramel — Very Good — soft & creamy caramel with lovely rich caramel flavor
Mint — Not a favorite, but, it might grow on us — strong menthol with chocolate background
Port Fig — Awesome — rich fig flavor with subtle port wine notes that don't overpower the dark chocolate
Coconut — Luscious — soft center white chocolate cream with coconut that melts instantly on the tongue
Coffee Praline — Pleasant — chocolate mocha with subtle nuttiness and a few tiny pieces of chopped nut were scattered on top
Grand Marnier/Marzipan — Incredibly Yummy and Addictive!  — dark chocolate ganache on top with a thin layer of rich almond marzipan on the bottom
For us, these were nice to very good chocolates.  They lack the powerful burst of dark chocolate that makes the best chocolates.  But, they're yummy nonetheless.  And, they're all too easy to eat.  This small box clocked in at around $10.  These chocolates offer a nice quality for a very affordable price.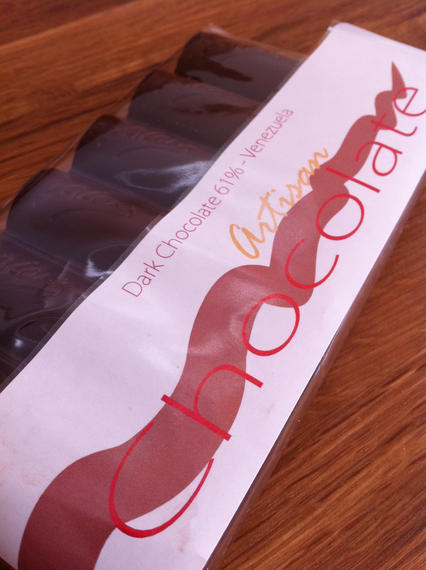 Venezuela — 61%
Normally, we prefer higher percentages in our favorite dark chocolate bars.  But, this artisan bar had a lovely milk chocolaty, smooth, creamy and mellow quality that we really enjoyed.  At just under $6.00 a bar, this was a tasty value.  This might be a new favorite.  We need to sample another bar or two… just to be sure you know.
Alon's Bakery & Market
4505 Ashford Dunwoody Road
Atlanta, GA 30346
678 397 1781