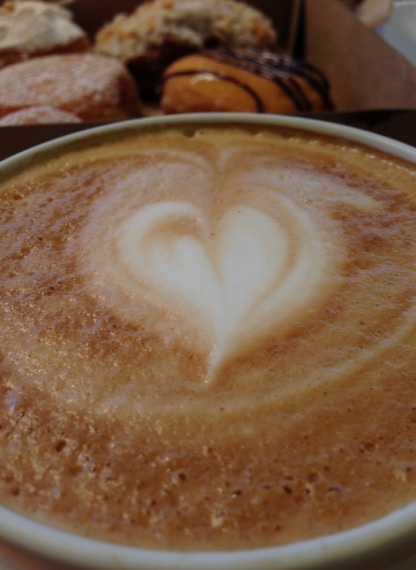 Doughnut & Latte Love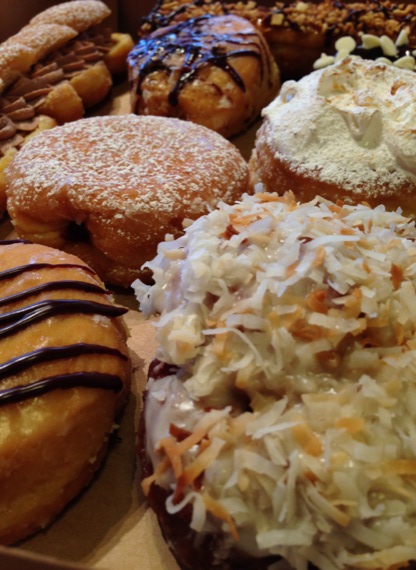 Pineapple Fritter with Toasted Coconut & Lime Icing, Passionfruit with Chocolate Drizzle, Blackberry Jam, Lemon Meringue, Coffee Cream with Chocolate Drizzle, Nutella Twist, & Salted Nut Bar
This is one big box full of delicious.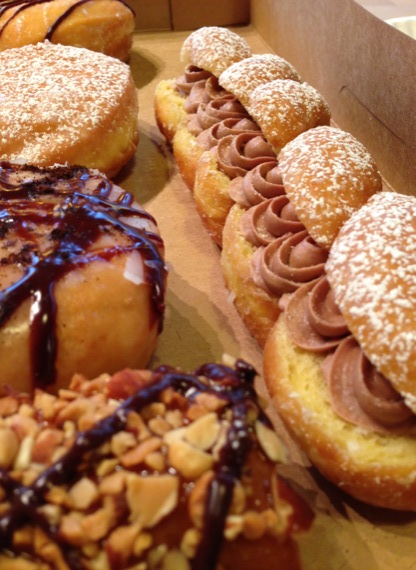 The Nutella Twist
Using doughnuts as a scale of reference, it's almost 3 doughnuts long.  That's one big cream filled twist.  And, anything with chocolate and hazelnut demands our instantaneous love.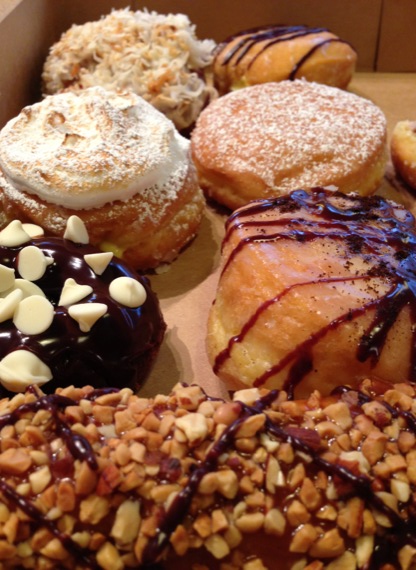 This is a better look at the nut covered salted caramel bar, and the dark chocolate cake doughnut with white chocolate chips.  That chocolate cake was a bit smaller than all the rest.  But, it was packing a punch of deep dark chocolate taste.  We both loved it.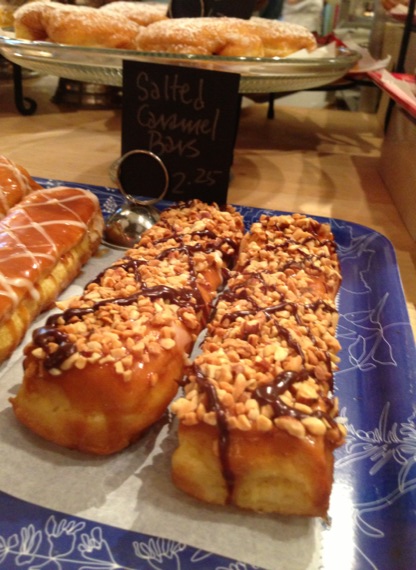 The salted caramel comes with nuts or without nuts (look to the far left).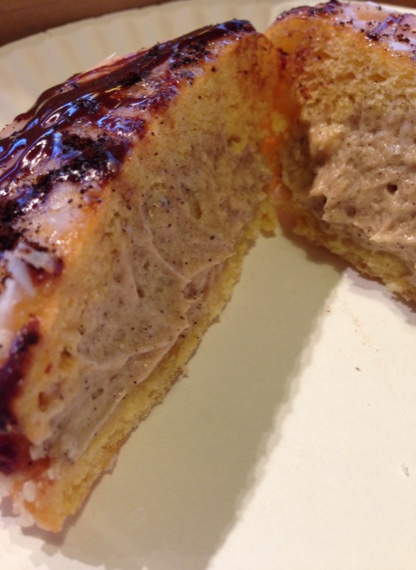 Coffee Cream with Chocolate Drizzle
You can see the little flecks of espresso powder.  It's the perfect mix of sweet chocolate, rich coffee and buttery cream.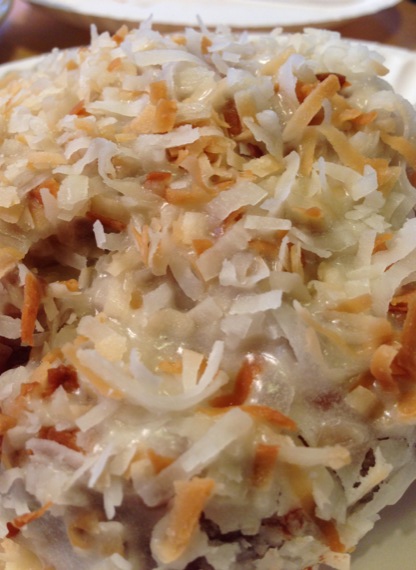 Pineapple Fritter with Toasted Coconut and Lime Glaze
In a box full of winners, it's really saying something when we can pick a favorite.  This was TO DIE FOR good.  Seriously.  It's too good to put into words.  Just eat it.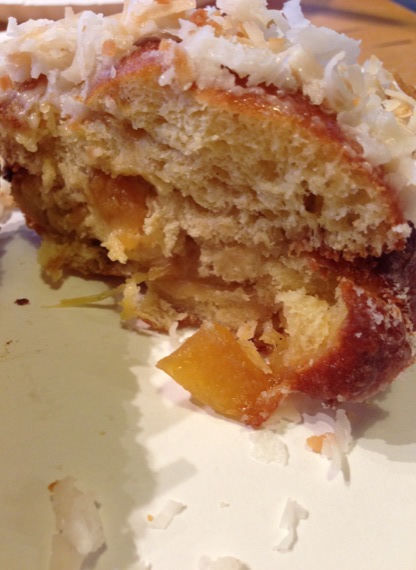 Those bites of pineapple are sweet and full of flavor.  The bright taste of lime wakes up all that richness.  And, the toasted coconut gilds the lily and takes you away to somewhere tropical when the weather's frigid.  It's a doughnut to make you happy.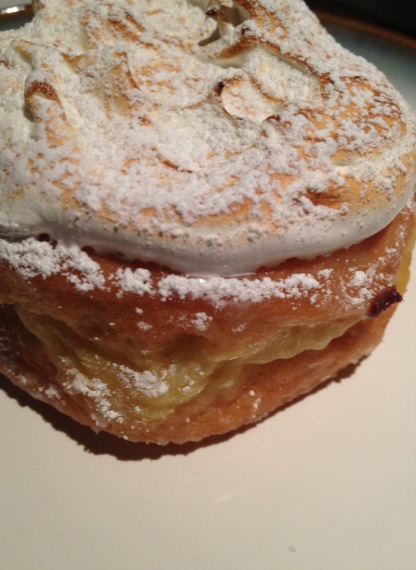 Midnight Snack Time = Lemon Meringue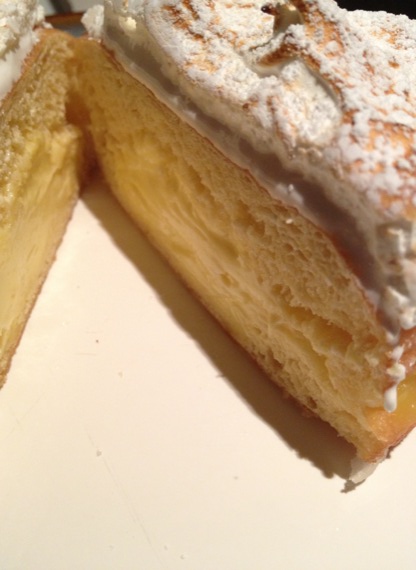 It's a thing of beauty.  And, it's delicious.  Tart lemon cream inside of a perfect doughnut shell, top that with a meringue that tastes like the perfect roasted marshmallow.  What more could any doughnut loving human want?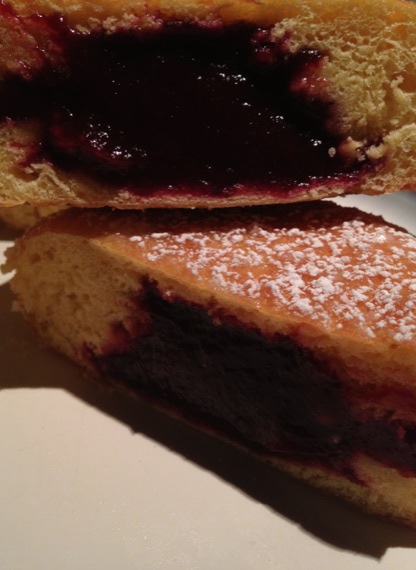 Blackberry Jam
(Stuffed so full, it's barely contained inside the yeast doughnut shell.)
We shared two doughnuts for a midnight snack.  One half of each doughnut hit the spot.  The rich blackberry jam filled doughnut made the perfect pairing to the tart lemon.  The blackberry is sweeter, but, not overly sweet.  The tartness of the blackberries shine.  A light dusting of powdered sugar crosses your lips last.  Ending each bite with a touch of sweetness, that dusting of sugar makes you crave the next bite.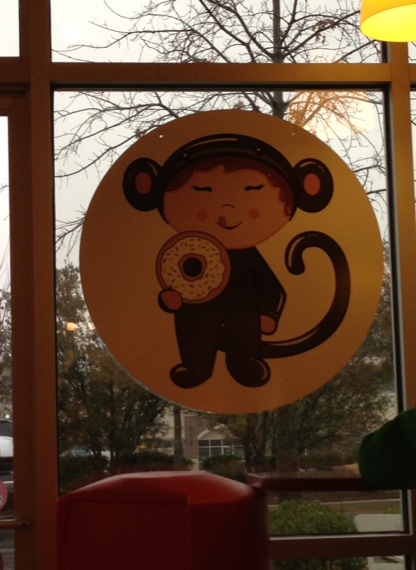 Dutch Monkey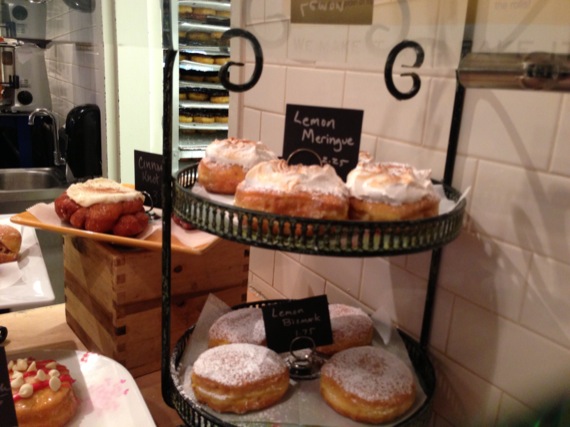 See those big things in the back?  They're giant cinnamon buns.
…maybe next time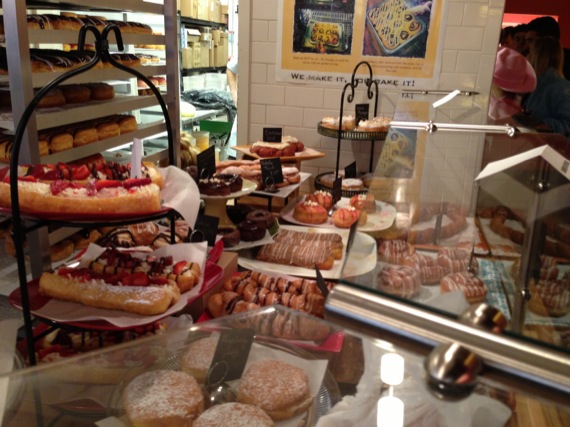 So Many Choices
Those maple bars (dead center) were very tempting, too.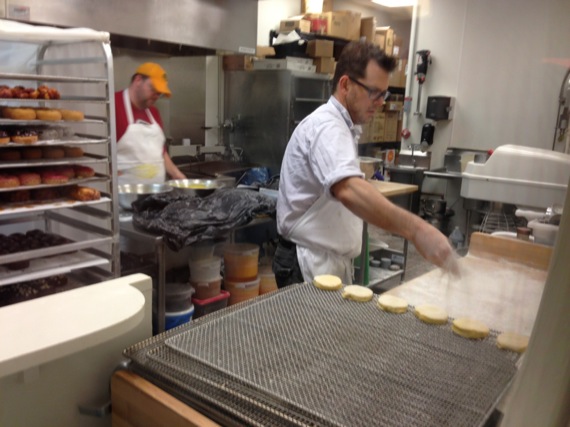 Busy Doughnut Makers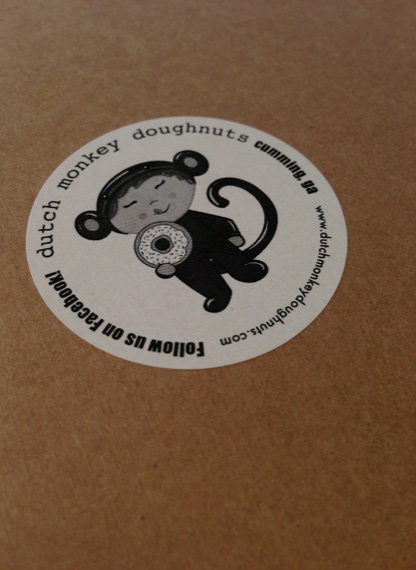 Check out their Facebook page for Daily Flavor Specials:  Dutch Monkey Doughnuts
Dutch Monkey Doughnuts
3075 Ronald Reagan Blvd.
Suite 502
Cumming, GA 30041
404 482 3650