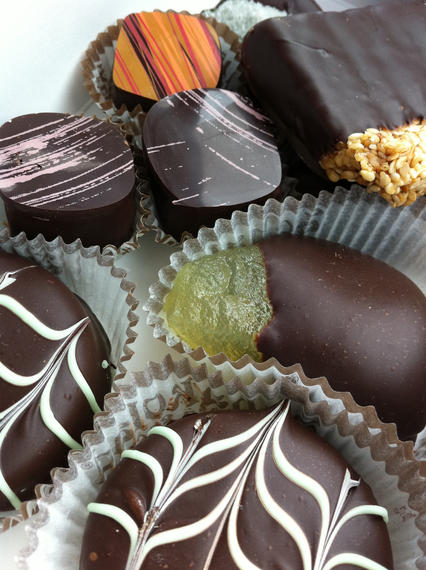 Dark Chocolate Sesame Brittle
Do you see that rectangular hunk of dark chocolate sesame brittle in the upper right hand corner?
In a word… genius.  Love, love… LOVE IT!
The combination of dark chocolate, rich caramel and roasty, toasty sesame seeds might just turn out to be dangerously addictive for us.  It's like a candy bar, but, for grown ups.
This was our Easter indulgence.  And, yes, the sesame brittle took up a small unassuming corner of the box.  But, it was hands down the best thing in the box.  The candied pear dipped in dark chocolate was a distant second.  And, a strawberry truffle was nice.  But, honestly, it's a struggle to remember it.  If we're already struggling to remember it, how good could it possibly have been?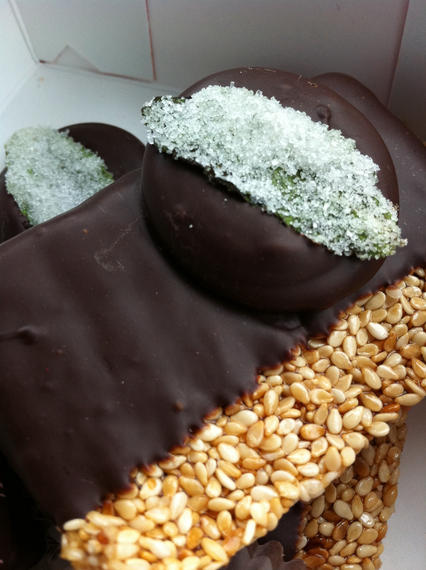 Sugar Coated Mint Leaves on Dark Chocolate & More Brittle
We didn't love the sugared mint leaves on dark chocolate, either.  In our opinion, fresh mint has a strong medicinal, menthol-y essence that really doesn't work with chocolate.  It was simply too reminiscent of gritty toothpaste dabbed on a dark chocolate dot.
Schakolad Chocolate Factory
1100 Hammond Drive NE
Atlanta, GA 30328
770 730 9770