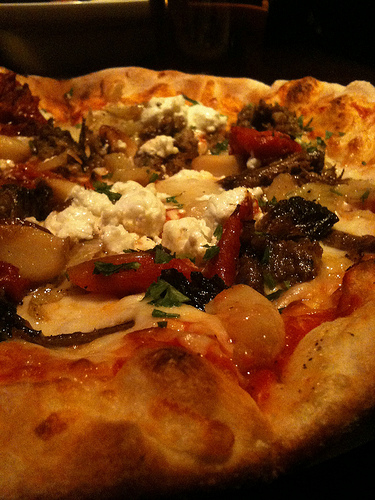 Shortrib & Lamb Pizza
This pizza is full of flavor.  Tender, braised shortrib is one of my all-time favorite things.  It has a luxurious buttery quality that underlines all the positive attributes of beef.  The tender shreds on this pizza illustrate that point beautifully.  Coupled with red pepper, crumbled goat cheese and roasted garlic, this pizza is a very good thing.  We didn't notice the lamb… at all.  I'm not even sure there was lamb.  But, honestly, I'd rather have an extra bite or two of short rib anyway.  We can overlook the sogginess issues as they work to perfect this dish.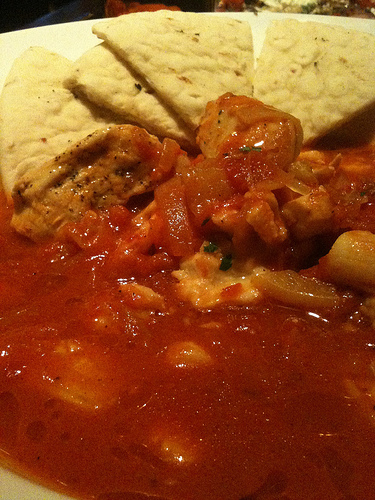 Seafood Stew
This seafood stew was less successful.  The tomato saffron broth was excessively fishy… in a bad way.  The scallop were teeny tiny.  I've never seen scallop this small before.  And, most of the protein in the "seafood stew" was actually chicken.  Not a fan of this dish.  At all.  The soft flatbread was on the very far side of soft & doughy.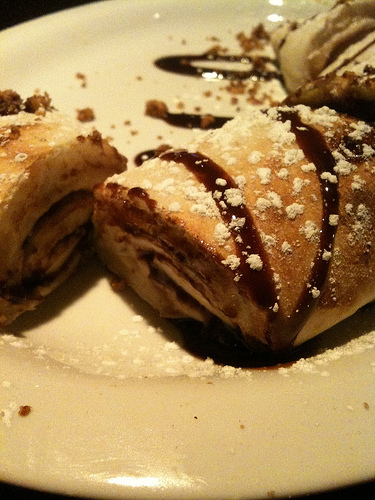 Nutella Mezzaluna
This looks pretty good…right?
This dough (possibly the same dough used for the pizza?) is stuffed with nutella and drizzled with what I believe is hershey's syrup.  Well, I'm using the term dough deliberately because it is still raw.  And, I do mean raw.  So raw that when a fork was used to poke at the center, raw dough oozed between the fork tines.  When we mentioned this to our server, we were told, "Well, it's supposed to be doughy."  As a budding bread baker, I've  never seen raw dough in a finished product… ever.  I still have unpleasant memories of biting into the raw dough and the unfortunate gag-reflex it induced.
This restaurant (opened just over a week) is very clearly a work in progress.
Hobnob Tavern Atlanta
1551 Piedmont Avenue NE
Atlanta, GA 30324
404 968 2288