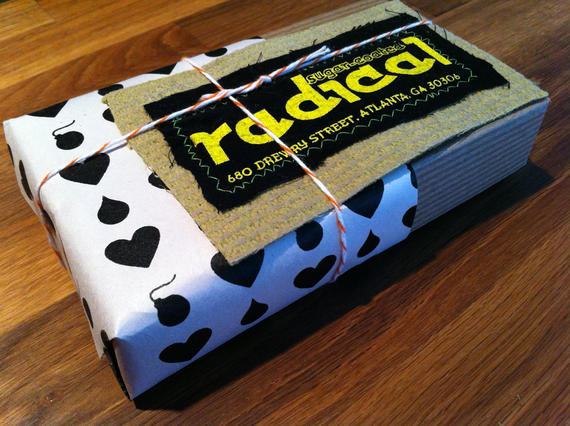 The Box
Could they make each little chocolate box more charming?  We don't think so.  Each box comes half-wrapped and decorated with a stitched fabric label… simply charming.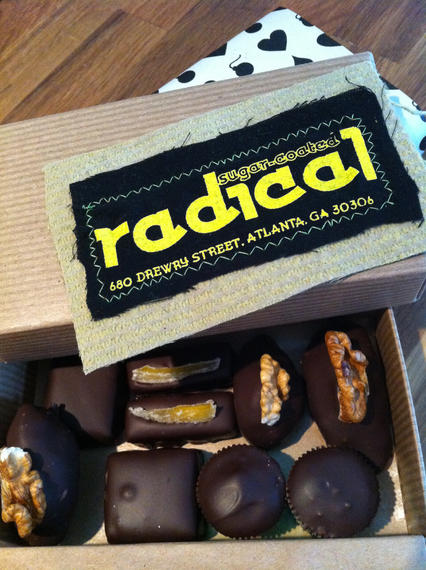 The chocolates at Sugar-Coated Radical are flavored with Grand Marnier, anise, rose, coriander, crystalized jalapenos, chipotle, a variety of liqueurs and other spices.  It was hard to choose from the lovely (and tasty) assortment of chocolate covered goodies.  We settled on some dark chocolate covered figs stuffed with even more chocolaty goodness then garnished with walnut pieces.  Squares of pâte de fruit with a generous dark chocolate shell, some delectable rectangles filled with Grand Marnier scented white chocolate garnished with crystalized orange, and a couple of dark chocolate cups scented with anise found their way into our box, too.
Knowing that new flavors will be appearing often and seasonal offerings add to that variety, we can see that many visits will be required to try all of the new and unique offerings here.  The über-friendly staff and an ability to watch the built-from-scratch digs come to life around you only add to the appeal of this lovely little shop.  This isn't a shop oozing airs and pretension.  It's all about the chocolate… very good chocolate.
Thanks to Cliff Bostock for inspiring our visit.
Sugar-Coated Radical
680 Drewry Street
Atlanta, GA 30306
404 587 4912