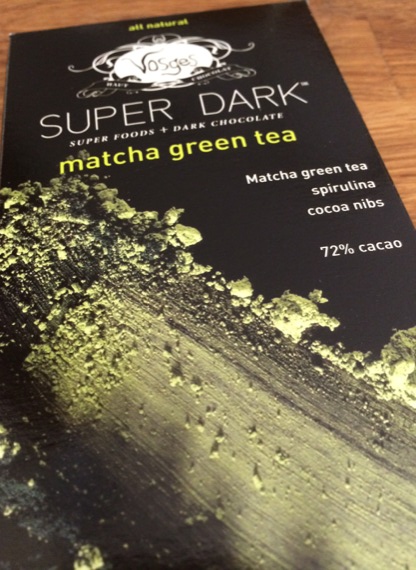 Vosges Super Dark
Matcha Green Tea + Spirulina + Cocoa Nibs
Dark, luxurious and surprisingly creamy, this deep dark chocolate melts beautifully on your tongue and the cocoa nibs add even more complexity and dark chocolate kick.  But, the aftertaste is odd.  There's an overwhelming powdery taste.  It's a residual flavor and texture that is reminiscent of powdery, grainy carob.  …Or, maybe it's a bit like a mix of chocolate malt powder and very light milky tea.
It's interesting and quite good (bordering on very good) to start.  But, we're not in love with the finish.  As a matter of fact, the finish leaves you with unpleasant dusty memories that might be best forgotten.
World Market
($6.99 a bar at World Market)