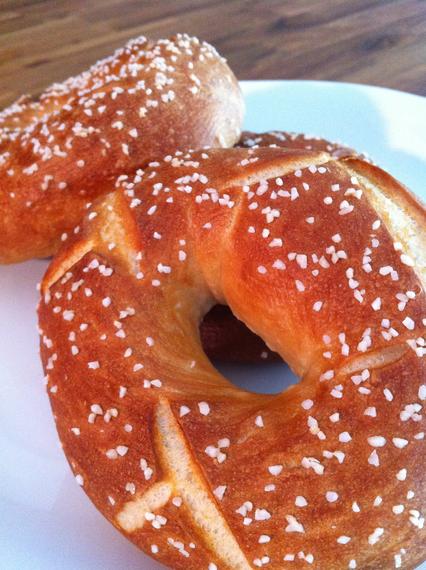 Einstein Bros. Pretzel Bagels
It's been years since we've wandered into an Einstein Bros.  The lure of a pretzel bagel instigated a visit.  The heavily salted pretzels are quite tasty.  But, there is a doughiness to Einstein's bagels that keeps them from being truly crave-worthy.  We also tried the pumpkin and pumpkin crunch bagels.  They were fine in an acceptable, but, almost forgettable way.  The one memory is a heavy handed use of pumpkin pie spice that left an almost bitter aftertaste.
The selection of vigorously whipped sweet schmears resemble icing more than a cream cheese spread.  The pumpkin schmear was a dead ringer for a flavored cream cheese icing.
On the day of our visit (Sunday) they were giving away $5 off gift cards for the next visit.  So, we might give them another chance.  We'll be hoping for a batch of pretzel bagels salted with a lighter hand.