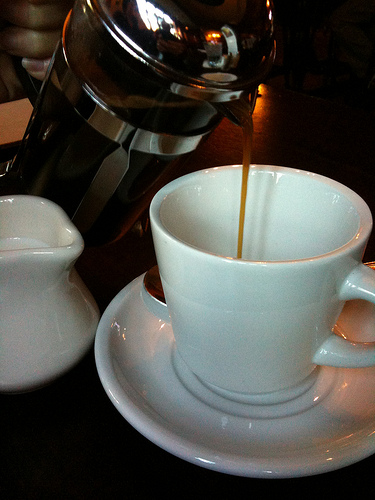 Single French Press Pot
This might not be the best cup of coffee in town.  But, it's strong & better than diner coffee.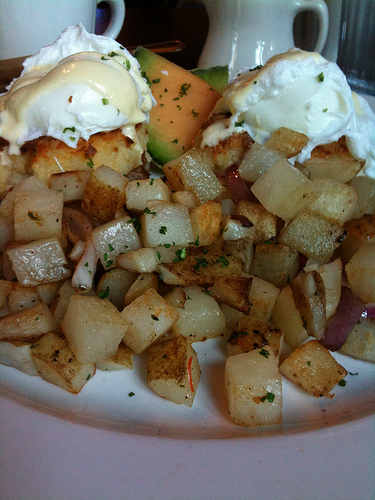 Potato Cake Benedict with a side of more potatoes
Some might find this to be excessive potato usage.  But, I enjoy simple food for breakfast (especially after a crazy night).  So, this was just what the doctor ordered.  And, the potatoes were crispy on the outside and tender in the middle.  I couldn't ask for more.  The one thing I would ask for next time?  Properly cooked poached eggs.  Both poached eggs were over-cooked with hard yolks.  Mmm… (not) I'm really not a fan of hard-cooked eggs.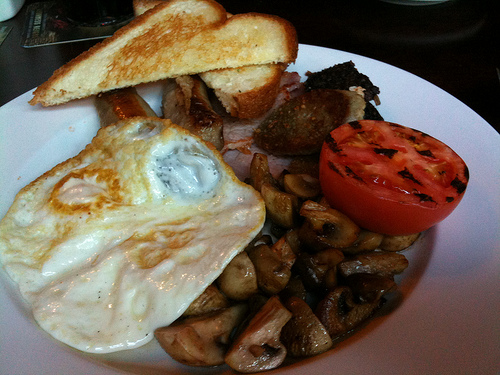 Saving the best for last… Irish Breakfast!
Now, these eggs were perfectly cooked.  At first glance, they appeared a bit overdone, but, they weren't.  Everything on the plate was cooked beautifully with nice golden brown edges & bits.   Even, the black and white puddings were nicely pan-fried and enjoyable.  Irish black pudding with the addition of sweet spices is one of the tastiest varieties.  The plain white toast was the only disappointment here.  We weren't offered an alternative… I hope there is one.  We'll definitely ask next time.  I can assure you… there will be a next time.  And, we'll both be ordering the Irish Breakfast.  An entire day's worth of food on one plate, we love it!  Why waste your time eating all day when you can get it all done in one sitting?
Ri Ra Irish Pub
1080 Peachtree Street NE, Suite 1
(corner of Crescent & 12th Street)
Atlanta, GA 30309
404 477 1700
Hours: Mon-Sun 11:00am to 2:00am